On November 13th Ural Days of Philosophy started at South Ural State University; this year the event's theme sounds like "Practicing Philosophy as a Way of Taking Care about the World and Yourself".
"This event aims at bringing people up to date and showing them that philosophy does not solely come down to an examination procedure and trying to learn all the answers to test questions, but that it can be a part our everyday life," notes Candidate of Sciences (Philosophy) Artur Dydrov. "It is important to introduce practicing philosophy to the audience as a special field of philosophical knowledge, but also present it as a practical means of working on your inner world."
In the morning a plenary meeting on the "Institutionalization of Practicing Philosophy" was held at Sigma Conference Hall. A welcome speech was delivered by the Head of the Department of Philosophy Elena Grednovskaya.
"We are organizing the Days of Philosophy at SUSU for the second year in a row. It is an important project which provides us with an opportunity to learn about other aspects of philosophical knowledge."
Sergey Borisov, a staff member of the Department, Doctor of Sciences (Philosophy) took part in this meeting.
"Philosophy here is not just a collection of knowledge or of descriptions of philosophical systems, but a form of spiritual activity aimed at setting analysis and solving any given worldview problems."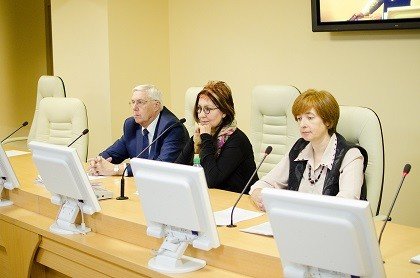 In the afternoon an Interdisciplinary Round Table "Ecology of Conscience: Humanities Milestones of the 21stCentury" was held, where representatives of various fields of science shared their opinions regarding points of contact between human being and society. Among the suggested topics were: "Inner Ecology", "Ecology of Language", "Ecology of Space" and many others.
Let us remind you that November 13th through 18th a poster presentation "Practicing Philosophy as Both Practical and Theoretical Knowledge" is being held in the SUSU's main building (3rd floor). It provides information on the field's history, its topical issues, prospects and trends of development, as well as describes the most recent events of the Department regarding this field.
We invite the students, postgraduates and professors, as well as all those interested in the contemporary trends of philosophical knowledge, to take active part in celebrations of World Philosophy Day held November 13th through 18th.