The Legal Clinic at South Ural State University is part of the Institute of Law and offers free legal help to the city's population, most importantly to disadvantaged groups, and allows students to understand all the subtleties of legal processes in practice. Alexandra Kosmynina, Head of the Legal Clinic, and Anna Vidergold, Senior Inspector of the Clinic, told us about the Clinic's fields of activity and new introductions to their work.
– When was the Legal Clinic founded and for what purpose?
Alexandra Kosmynina: The Legal Clinic has been in operation since 2000 but was officially registered in 2010, at which point much of the city's population and the majority of our students found out about it. Initially, it was established so that students could gain practical experience during their education at the University, as an analog to residency or internship, with the key difference that students are allowed to work at the clinic before obtaining their degree. During their education, they are able to apply their knowledge to real practice and offer consultations to the population under the guidance of the Head of the Clinic and other practicing lawyers – professors of our Institute.
Before, all students were able to complete practical training in the Legal Clinic after their first year. Now, priority is given to students in the third and fourth years of their Bachelor's Degree and first and second years of Masters' – these are the students who will be directly involved in consultations. Other students who wish to join, of whom there are many, are brought in as apprentices. They are present during talks with clients, they offer legal literacy classes to schools, and they attend legal proceedings as observers. In the Legal Clinic, students gain professional communications skills by consulting people within the Clinic and participating in free consultations during the Free Legal Help Days which are organized by various authorities, create informational legal booklets (answering questions on the most pressing legal topics), and can personally observe legal proceedings. I think that participating in the Legal Clinic allows students to gain confidence in themselves as qualified specialists who completely understand the responsibilities of their work, and their future employers will value the work experience of such students, since the end goal and expected outcome of the completion of practical training at the Legal Clinic should be the certainty that they are employed well after obtaining their degree.
– What fields of work does the clinic deal with?
Anna Vidergold: The Legal Clinic has three fields of work: written and in-person consultation, creation of legal documents, and methodological work for creation of brochures for consultation by correspondence and providing information to citizens. We have determined six fields for legal help: housing; property; contracts; family and inheritance; consumer rights; and labor issues, pensions, and benefits. The students' will to work is important, but their knowledge in these fields is equally important. We have assigned professor mentors to each of these fields. The professors have practical experience in working in their assigned fields, and without their stamp of approval students can't offer consultations.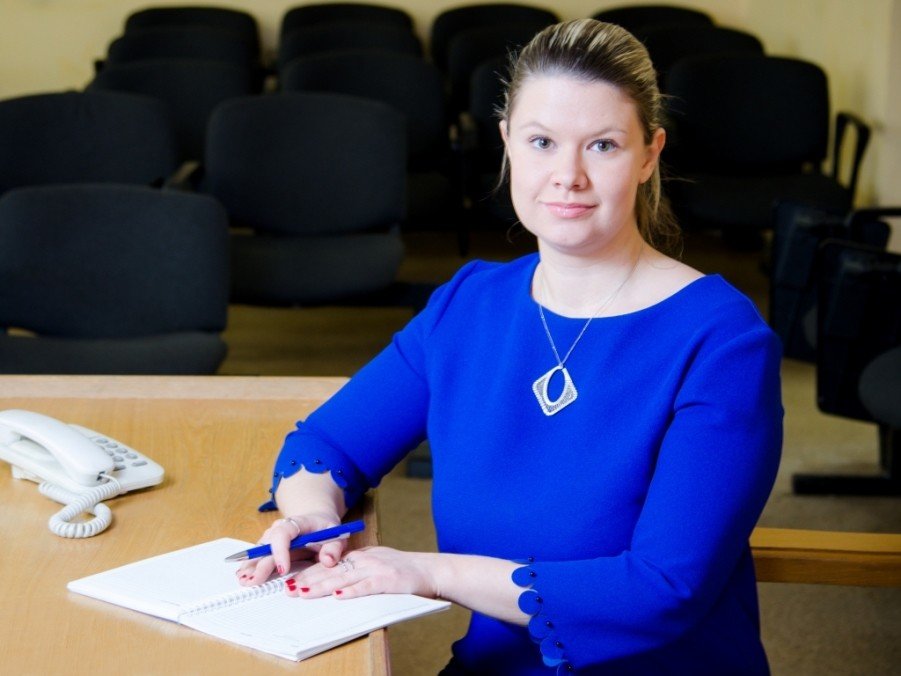 – How do citizens receive consultations?
AK: The Legal Clinic will resume its work starting November 13th. Right now we are completing training of the students who were selected for work. The clinic will be open 6 days a week. We have two locations – 145 Kommuny Street and 47a Elektrostalskaya Street. Citizens can carry out consultations at either of them. Consultations are offered for a maximum period of 14 days, 5 of which are for students to prepare, 5 for the mentors to check their work, 2 days for the mentors to write up notes on their students' work, and 2 days for final approval. Depending on the complexity of the case at hand, these terms can be shortened.
AV: We have chosen the students who will work as consultants this year. We have completed surveys and selected the students who were willing to work. There will be a natural attrition of students while they are working with citizens. This year we would like that every student interacts with the Legal Clinic in some way – as a consultant, while doing methodological preparations, or when informing citizens regarding legal issues. We are also planning on offering in-advance appointments for citizens. We have approved the regulations on attending consultations, which combined with mentorship by our professors will make it possible to offer free, qualified legal consultations and draw up legal documents.