Until not very long ago, only a few people were sure that online education would be called high-quality education. However, no one is surprised anymore by the fact that the internet is an excellent instrument for obtaining professional education or continuing education. It is a chance to study in a prestigious university, saving the time spent driving to university and saving oneself from the issues of living in a different city. It's a chance to combine work and study and the freedom of choosing the amount of time needed to complete an assignment.
What distance education opportunities does South Ural State University offer? What are the tendencies in the development of electronic education in the university? How will the admittance campaign be held in 2017 for distance education? Candidate of economic sciences, director of the Institute of Open and Distance Education, Aleksandr Demin, answers these and other questions.
– Aleksandr Alekseevich, the Institute of Open and Distance Education (IODE) has offered online education to students since 2003. What significant changes have occurred since that time?
— The most important one, probably, is peoples' changing opinion of distance education from complete non-acceptance to its fixation at the legal level and the acknowledgement of DO as one of the main tendencies in the development of international education. In terms of distance education at SUSU, the most important change is without question the growth of professionalism of the people who offer methodological and technological support. This means a completely different level of quality for hardware and software support for DO, a significant increase in the number of people interested in teaching and learning through DO, and the increased geographical range of distance students. Today, for example, students from Chelyabinsk and the Chelyabinsk region, the Yamalo-Nenets and Khanty-Mansi Autonomous Okrugs, the Amur region, Yekaterinburg, the Republic of Bashkortostan, Moscow and the Moscow region, Kazakhstan, Tadjikistan, Azerbaijan, Uzbekistan, Mongolia, Turkey, Qatar, the USA, Cyprus, and more study at the IODO.
– What are the Institute's priority areas of work at the moment?
— Tentatively, I'd name three areas. The first is distance education of students and professors. I don't include professors randomly - the quality of educational programs is directly connected to the person who creates it. The method of delivery (in our case, digital), in great part, does not have significance, although there are some special aspects to DO. The more popular online education becomes, the more competition there is between teachers and professors. This means that they must put forth more effort to get students interested. For this reason, IODO has developed programs for re-training and professional development that are completely realized online. (All information about continuing education courses is given on a special webpage -"Courses and Resources".
The second area is creating the conditions that enable change in the existing educational models using online technologies. Internet classes, as before, are managed by real people. Master classes, round tables, and conferences are held so that they can use new instruments and implement pedagogical approaches which take advantage of the online technologies. There is ongoing work on updating the hardware and software support. In organizing the work in this area, we pay attention to the fact that distance education is an ideal option for individuals with disabilities.
The third area is monitoring and research of online education and participation in projects. We use different models of online education: distance, mixed, and education with the help of tutors. We follow the tendencies and try to keep our colleagues informed about what's happening.
– Are there any new developments in the distance education system?
— This is an area that develops at lightning speed. Traditional education must always move towards changes, sometimes radical ones. Today, for example, strategies for creating educational programs which take into account the needs of employers are being actively discussed. One of the solutions of this issue is the development of technologies for creating custom courses. The new word in education is massive open online courses (MOOC). Today, there are no ideal examples of these products, and IODO has taken on the bravery to be pioneers in these areas.
In terms of the education of students, they, in my opinion, are also on the front lines. When studying, they remain active participants of the labor market, and therefore can actively use the newest instruments in their profession. They can converse with people they'd otherwise never meet with in a classroom. Just imagine: 9498 active users are registered on the Electronic SUSU 2.0 web portal. In this electronic space, contacts are made that form long-term partnerships. After all, our students more often than not are working in areas tied to their desired profession.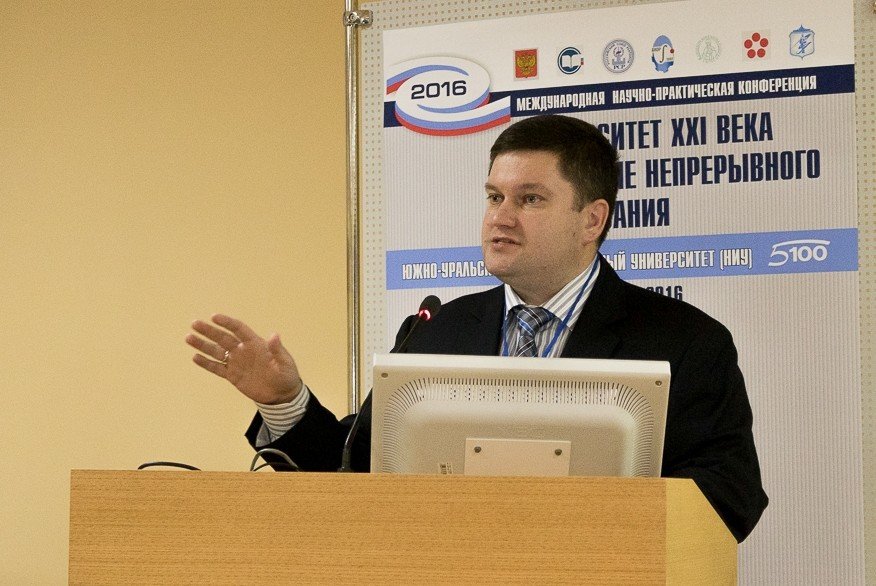 – The IODO site offers self-paced courses for students. What do these courses give students?
— In life, there are always situations when a student, for some particular reason (illness, moving, etc.), was not able to complete their exams on time. In these situations, it's not important which faculty he's studying in – he can complete self-paced courses and, at the end, receive a grade, which is issued to him upon the completion of the course. All information about self-paced courses is presented at "Courses and Resources".
– Is this not just a loophole for students who slack off?
— I would say that this is a chance to fill knowledge gaps. If you are referring to the fact that the courses do not have control from professors, there is a saying which illustrates this better than any other: You can lead a horse to water, but you can't make it drink. In other words, if a person doesn't want to learn, it makes no difference if a professor is keeping tabs on his work or not. He just will not study in any format.
– The 2017 acceptance campaign begins June 20th. How will it run this year? Will documents be accepted through online applications?
— I'm sure that the IODO family of more than three thousand will get significantly larger. After all, with us you can get qualifications as a lawyer, economist, manager, specialists in state and municipal management or pedagogy, or a builder in the distance or mixed format. We education bachelors and masters, and our students include people of various ages getting both their first and their second degrees. The accessibility of our education and its high quality while maintaining the students' mobility are additional arguments in favor of choosing our institute. The doors of the IODO are always open for everyone who wishes to develop themselves, change, and, most importantly, study.
We have always done everything possible to spare our students extra worries. We quickly post information about any changes to the acceptance campaign. Our applicants have a few ways to submit documents, including through the internet. Further information can be found on our site in the tab Methods of Submitting Documents. Applicants can submit questions on our site and get answers by email or leave a request for a follow-up call and a staff member will call within 28 seconds and answer any questions of interest.
– What would you like to tell future applicants before the acceptance campaign?
– The 21st century is the century within which intellectual capital became not just a means of putting food on the table, but a necessary condition for being successful in society. Being modern means actively using informational technologies to receive, trade, and manage knowledge, searching for colleagues and experts, analyzing the market, searching for work, and more. Therefore, education is an important factor of a person's success at any age.
Don't miss the opportunities presented today by distance education – come study with us in the SUSU Institute of Distance and Open Education.