Food industry is an important sector of the Russian Federation economy. The Chelyabinsk Region is one of the leaders in producing socially significant foods: grits, pasta, poultry meat and eggs. Favourable social and economic conditions have been created in our region for successful development of all food production sectors. Associate Professor of the Department of Food and Biotechnology at the SUSU School of Medical Biology, Svetlana Merenkova tells about competences of specialists and also about innovations in this field.
– What does a specialist in this field do? What are the job specifics?
– Specialists from various fields are in demand in different sectors of food industry. For instance, professionals in mechanics and engineering responsible for operation of engineering systems, installation and set-up of equipment in workshops. Or quality assurance specialists, since it is them who decide on consumer properties and safety of end products. And of course, technologists and production managers, who control the whole production process.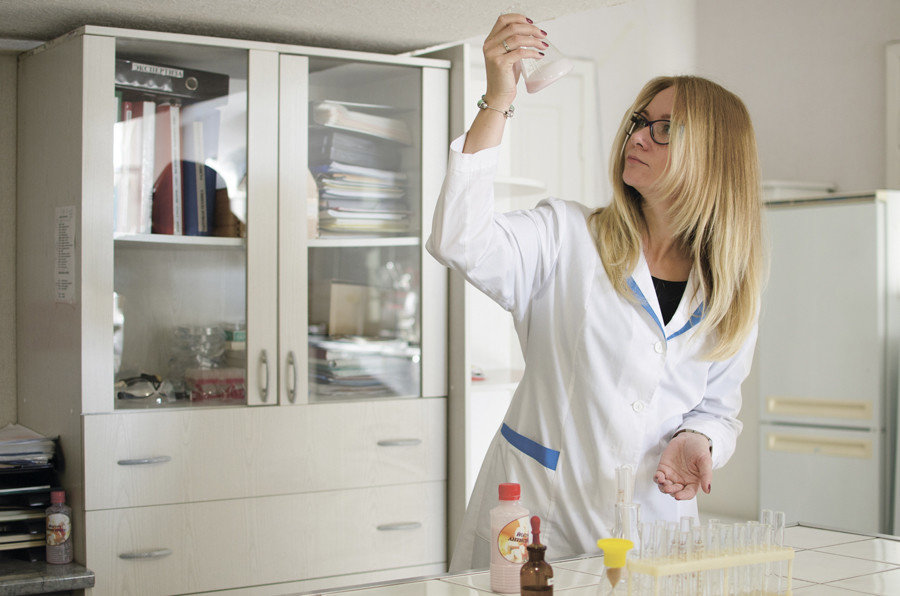 – What knowledge is compulsory for a specialist? What are students taught at the Department?
– Our specialists are provided with a very wide range of competences. At the basic courses students are taught the fundamentals of biochemistry, microbiology and nutrition physiology. They know all the nuances of a biochemical metabolic process in human body. They learn how to plan a proper diet; which nutrients are healthy, and which are not. We also teach them detailed courses on physics, mechanics and engineering graphics, so that our graduates know the basic principles of equipment operation. Senior year students study technology of various kinds of food:sausage products, specialty foods, dairy, bakery and confectionery products. They continue studies on specialized process equipment used at each certain production stage. Our graduates may work not only as technologists, but they also know the basics of workshop designing, and are familiar with the principles of production laboratories functioning. An important complex of disciplines is related to quality management system at enterprises, since quality control of raw materials, modes of technological process and end products is a crucial production factor forming the reputation of an entire enterprise.
– How do students obtain practical skills?
– Practical classes for students comprise laboratory work, discussion groups and writing of term papers, all of which is related to preparation of drawings, experimenting with recipes, and studying the stages of producing goods. Our Department laboratories are provided with specialized equipment, and the required conditions are created for performing technological stages of food producing. Most of the food industry enterprises of the Chelyabinsk Region collaborate with us, take part in exhibitions, master-classes, and deliver lectures for senior year students. Students, in their turn, undertake internship at the production sites where they learn about the technological process and obtain practical skills. Such enterprises as "Makfa", "Pervyi Khlebokombinat" bakery complex, "Soyuzpishcheprom", "Agrofirma Ariant" farming enterprise, and many others invite our specialists and welcome them.
– What innovations exist in food industry?
– The Russian Federation Government controls the development of our food industry. There exists a program on this field development elaborated up until the year of 2020; it describes the priority fields of the industry modernization,which we take into consideration while planning the education process. One of such priorities is using resource-saving technologies and non-waste production. And we offer a discipline "Fundamentals of Rational Use of Raw Materials" under which students learn how recoverable resources may be used in other sectors of industry, and how to produce microingredients and natural food additives from recoverable raw materials. Due to complete recycling of all waste, environment pollution is prevented, and an enterprise enjoys an economic benefit. Another field is using biotechnologies for food production. Today, manufacturers widely use synthesized additives to form food flavours, which are not always good for your health. However, through biotechnological processes and the use of natural enzymes and microorganisms similar parameters may be achieved.
The priority trajectory of the industry development is elaboration of technologies of functional foods producing. That means that foods are created which contain healthy components, such as vitamins and mineral nutrients, food fibers or probiotic microorganisms. Many enterprises in the process of widening their foods assortment try devising recipes with high content of such healthy components. That is exactly the future of food industry.