The disconnection of a neutral wire in a system of 0.4 kV can lead to an individual being electrocuted. In addition, in such situation, fires are a high risk. South Ural State University researchers have found a way to protect people against the negative effects of a neutral wire disconnecting.
Work in this field is has been underway at the Department of Health and Safety of SUSU's Polytechnic Institute for more than 20 years, and at this time some good results have been achieved. Analysis of the results of this system will be completed in November 2017.
"At first, all research was conducted in the village Miass, but now it is held in the town Mirniy in the Krasnoarmeyskiy Region; 24 systems of protection against phase conductor and neutral protective conductors were installed. Statistical material is being collected. For now, the system has not failed us," says Alexander Sidorov, Doctor of Technical Sciences, Professor, Head of the Department of Health and Safety of the SUSU Polytechnic Institute.
The developed system, first and foremost, underwent evaluation in laboratory settings on physical models, then in an experimental electrical circuit.
After this they began installing the device in Miass. 
They will decide the question of widespread implementation of systems of protection against phase and neutral conductor disconnects per the results of experimental production use.
"The key feature of this system is that it guarantees protection which might not work at the head of a line, for example, when wires cross. The wind picks up, the wires cross, and phase C is now crossed with the neutral conductor. This is called crossed wires. Single-phase short circuit occurs, but protection will not work at the head of longer lines. But our equipment senses this and in a certain amount of time it informs the electrical grid dispatcher about what has happened. It's good if the wires uncross after crossing. Sometimes they melt and a short circuit occurs which leads to fire or dangerous electrical situations. These are other things our system solves," explains Alexander Ivanovich.
At this time there are no analogues to this system. Its uniqueness lies in the fact that it does not require additional equipment. Electrical energy must be calculated. Electric meters determine changes to the operating conditions, and information about this is received at the head of the line and by the dispatcher. This is what sets the device apart. The researcher also stresses that the results of these developments enable the safety of human lives.
"In our country a significant number of people die due to 0.4 kV grids each year. Most often this occurs when the phase conductor disconnects and falls to the ground. If there were protection, people would remain alive. Shutoff occurs in a matter of seconds, and the chance of someone ending up electrocuted is very small. To protect workers, we have developed a device for individual measurement of the effect of industrial frequency electrical fields on the human body."
Right now this area is being developed actively. A similar task is being solved by our team (the Department of Electric Power Generation and Supply and Department Health and Safety) for distribution grids of 6 – 10 kV.
"If you were to take the total length of distribution grids across the Russian Federation, you'd have around a million kilometers. Accordingly, with such length, the chance of a disconnect is quite high. Lines of 6 – 10 kV often run along village roads by which agricultural machinery moves during harvest and planting seasons. If such a machine accidentally grazes a pylon, it will become unseated quite suddenly, and one of the phase conductors can disconnect. Right now we are trying to determine the presence of a phase conductor disconnect and the location of said disconnect by the operating conditions. These lines are removed from the supply unit by 6-10 or more kilometers. If a notice comes in that a disconnect has occurred on a certain line, it's important to work slowly and watch carefully, because it's not always visible. So far, work in this field is being completed quite successfully. We can already say that this kind of situation occurred, for example, between the 21stand 22nd pylon. We can drive to the 20th pylon as fast as the speed limit allows, and further we can determine the location of the disconnect and take the necessary steps," says professor Sidorov.
Rosseti PJSC has shown interest in these developments at present.
One more successful area is research of industrial frequency electromagnetic fields.
"We've done a lot of work in this field," notes Alexander Ivanovich. "In transferring a large amount of electrical energy, we must use lines of the appropriate voltage. These are lines with a voltage of 330 kV and more, the so-called inter-system electricity mains. When using such mains, a strong electrical field occurs around them and at the appropriate substations, the intensity of which is 10 or more kV/m. We researched the distribution of electrical fields and developed a method for creating a map of electrical field intensity which was implemented in the Federal Grid Company of the Unified Energy System of Russia Ural Bulk Power Systems. Around 40 maps of the distribution of electrical field intensity in open distribution equipment have been created."
Maps of the distribution of electrical field intensity (50gHz) at ODE
Traditional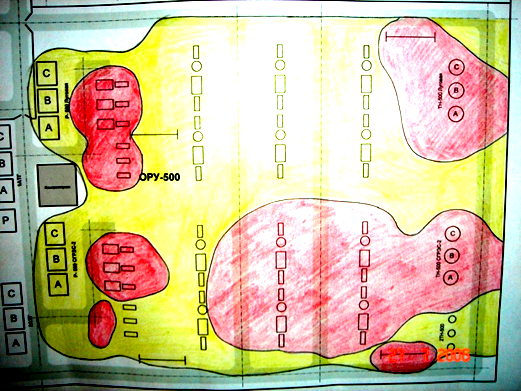 New methodology
In addition, research on the efficiency and safety of LED lights has been completed at the department. As a result, an experimental lighting system was created, consisting of LED lights, which makes it possible to create lighting from 100 to 1,000 lumens with a color temperature from 3,000K to 6,500K.
Experimental lighting system from LED lights
The Department's equipment makes it possible to complete applied scientific research aimed at improving technologies of fire-proof periclase materials based on carbon-containing binders, improving of fire safety at metallurgical factories due to the improved level of cleaning the surface of water from oil products using oil-absorbers and electroflotation, lowering the combustibility of thermal-insulating polystyrene materials by using surface and volume treatment with solutions of inorganic materials, and reducing the fire hazard in the production of combustible ferroalloys and agglomerates.
Research is planned on the fire safety of waste water containing such substances as machine oil, lubricating and cooling liquids, and other forms of gas product which are widely used in manufacturing and which enter the treatment facilities of enterprises in large amounts.
In conclusion, Alexander Sidorov spoke about the areas in which research will be completed in the near future. The researcher believes it necessary to continue his work in determining conductor disconnects and their precise location. The system of isolation control is the thing which will improve the reliability of power supplies and electrical and fire safety.