Over many years, South Ural State University has been working successfully with the Chelyabinsk branch of Sberbank and is realizing interesting projects for the joint training of students. This partnership is cemented by an agreement and by offering spaces for students to complete practical training.
Each year, SUSU students complete internships and pre-graduation trainings at Sberbank offices located in the Chelyabinsk region. We have some general interests – the university is interested in its graduates' employment, businesses are interested in economically-well read, trained employees, adapted to the Sberbank system.
Students are in demand in all of the bank's structural subdivisions.
"Since we have a multi-field division which works with all of the bank "products" for the corporate block, we have very multifaceted work, and students have the opportunity to receive various knowledge about working in different blocks. Coming to us, students come to a job which, it may seem, has a mechanical character, but, nonetheless, they can visualize for themselves the main areas of bank work: credit, monitoring, working with software, and so on. We hire the best students if we see that they are interested in this work. Many students have been completing their practical training with us for many years, by which they are improving their competitiveness among other job-seekers. During their practical trainings, every student has an adviser who teaches them how to correctly interact with clients and complete tasks set for them. It is important to me that at the end of their training, students understand that modern banks are not just white collar workers who do their time at work for a set period. My goal is to show the real work of a bank employee so that students can make a conscious decision – are they ready to come to work at a bank or not?," says Ekaterina Kartashova, head of the Office of Sales for Large and Middle-sized Business.
In 2015, the department of Economics of Business and Project Management and the Chelyabinsk division 8597 of Sberbank PAO gathered a group of 35 people in the program Project Financing, Economics, and Organization of Manufacturing (in the Economics area of study) to support the bank with specialists in project financing.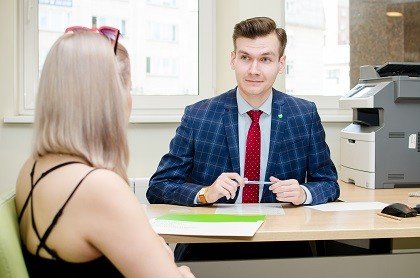 "I came to Sberbank in 2015 when I was completing my practical training. My first job was in the Office of Sales for Large and Middle-sized Businesses. I called clients, completed deals, and delivered paperwork to different banks and businesses. The work was quite difficult, but interesting. This year, I am working as a consultant directly with people. Here I need more psychology. I am planning on completing another practical here in my 3rd year as well, and in the future on working at Sberbank," shared 2nd year student of the School of Economics and Management at SUSU, Vitaliy Lukyanov.
Over 2 years of study, students in this group are led by the bank, both in terms of completing their practical trainings and in adapting to the Sberbank system and actively participate in all of the corporate events of the Chelyabinsk division 8597 of Sberbank PAO. In the third year of study, special field-specific classes in banking topics are planned for students of this group, which will be held by leaders of the bank's structural divisions who have completed LBS and MBA programs.
In 2016, 193 students from various universities completed practical trainings at the business, of which 58 were from SUSU. Sberbank is changing rapidly and the need for young specialists able to work with large amounts of data, ready for development, and focused on career growth is rising. Over the first half of 2017, 216 students completed a practical training, and 8 were hired at the bank.
"I am completing a practical training here not for the first time. First I completed it after my second year in the division of client relations. There I spent a lot of time in the archives and helped with papers, because at that time they didn't let us near clients because of our inexperience. This time I completed a practical training in the division of direct sales, because I am planning on working here. My work involved me getting in touch with clients by phone and telling them about specials we had or offering them something. If the clients were interested in this, we gave their contact information to our bosses. I am also planning on beginning my career as a specialist in direct sales. I think that this is the largest financial organization, and not just in Chelyabinsk," says 3rd year student of the School of Economics and Management at SUSU, Andrey Zavyalov.
In 2017, within the project "Learning by Doing", realized by Sberbank and SUSU, 52 students of various programs are participating in projects for completing real tasks at banks in various structural divisions in teams with professionals.
"Sberbank came to visit our institute and invited us into the program "Learning by Doing," to which they invited students from various programs who could develop and find solutions for various cases. For us this was a transformation of the division network for the Chelyabinsk region. We studied the city and analyzed it from various perspectives. For me this was especially interesting because I am in the Urban Planning program and it was interesting for me to study the city from Sberbank's point of view. Sberbank is a fairly large company which wants to advance its business. It is possible to realize different possibilities using various projects presented by the business. We already analyzed Chelyabinsk and made our conclusions, so we are now analyzing the Chelyabinsk region and different cities. This practical training is a unique experience for me!," shares fourth year student of the Institute of Architecture and Construction, Anna Morozova.
Sberbank is placing bets on young people and is waiting for you! Today, Sberbank is the bank of possibilities. This is both interesting work with a good salary, but an interesting life and endless development.