The Laboratory of Micropowder (Aerospace Technologies REC) has been operating at South Ural State University for a few years already.
In the beginning, the laboratory was tasked with manufacturing high-quality metallic powders which can be used in additive technologies. Pavel Lykov, candidate of technical sciences, head researcher of the laboratory and Rustam Baitimerov, engineer and researcher at the laboratory tell us about the developments.
Additive technologies are technologies in which a final products are received not in the process of removing excess from a large block, but the opposite – through the process of building up. Their advantages are energy efficiency and low waste creation. It is possible to create complex components with internal cavities. These components can't be created by the traditional method.
"Everything new is well-forgotten old.' The first steps in obtaining and studying metallic powders in additive technologies were made abroad long ago. They say that in the USSR these technologies existed. For example, deposit welding. If you slightly modernize it, this is already close to additive technologies," says Rustam Mindiakhmetovich.
On the first stage, 2 patented installations for producing metallic powders appeared at the laboratory, which were developed alongside staff from the department of aircraft engines Aleksey Shultz, Konstantin Bromer, and Evgeniy Safonov. The technology for diffusing liquid metals through gas jets was studied on this equipment.
"When we just began working on research in the area of additive technology, we traveled to an internship at the National Engineering School Saint-Etienne (France). There, we met with a well-known scientist – professor Igor Smurov. He shared his experiences with us, showed us the school's equipment, and told us about the most promising work. Later, we worked with Professor Smurov in a joint grant," says Pavel Lykov.
In the Laboratory of Micropowder Technologies there was only one additive installation which is a selective laser fusion type. This is the creation of a product layer by layer with powder materials.
"It worked in this way: a 3D-model of the component is divided into a number of 2D objects, which, layer-by-layer, are stacked and fuse together. Each layer creates selective fusion of part of the powder," says Pavel Aleksandrovich.
In their join work using the selective laser fusion installation, deeper understanding of the processes appeared which guided the laser's interaction with the metallic micropowder.
Having studied the literature and articles by different authors in this field, our researchers came to the opinion that additive technologies and traditional methods develop in parallel with one another, and in traditional methods of creating metallic components (casting, milling, etc.), additive technologies have very big competition. Pavel and Rustam decided that the most promising direction which would allow them to move away from their competition and move all of the other directions into the background is the use of composite materials.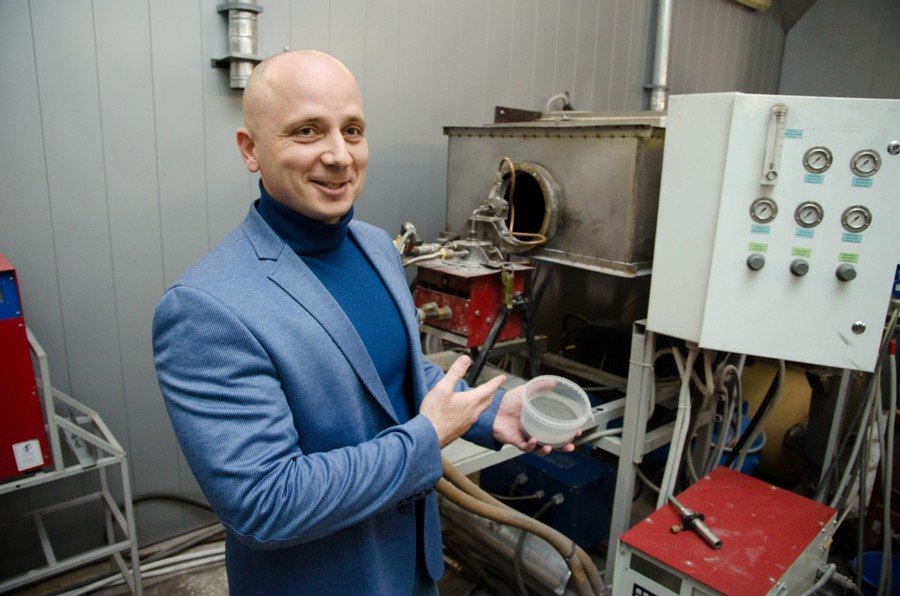 "The addition of a reinforcement phased makes the material wear-resistant, and in this case it is difficult to remove the excess from it. But if we use composite powders, then we can make supercomplex components based on composites. We gained many opportunities: in choosing the composition, the chosen metal and ceramics, we can receive a wide range of characteristics depending on the task that we need to solve through production," says Pavel Aleksandrovich.
It is not advisable to use a mixture of powders in additive technologies. The researchers faced a challenge: create a high-quality composite powder useful for additive technologies. Together with doctor of technical sciences, research head of the Nanotechnology RES Sergey Sapozhnikov, they developed a technique of modifying metallic micropowders, including the application of a nanopowder to the surface of a metallic micropowder. Research on the properties of the material obtained was completed with Nanotechnology RES staff member, candidate of chemistry, Dmitriy Zherebtsov.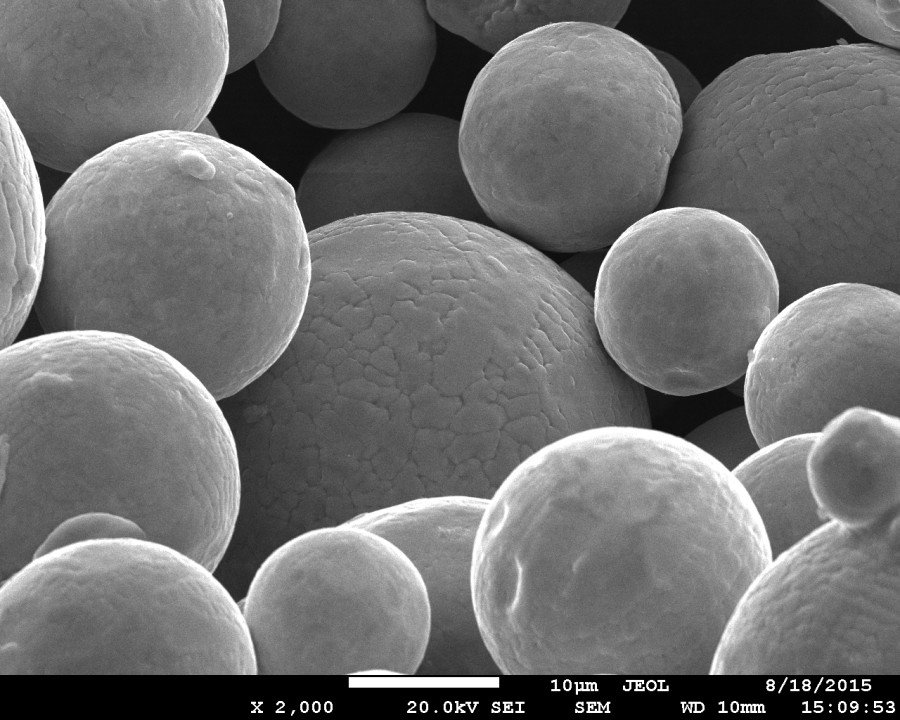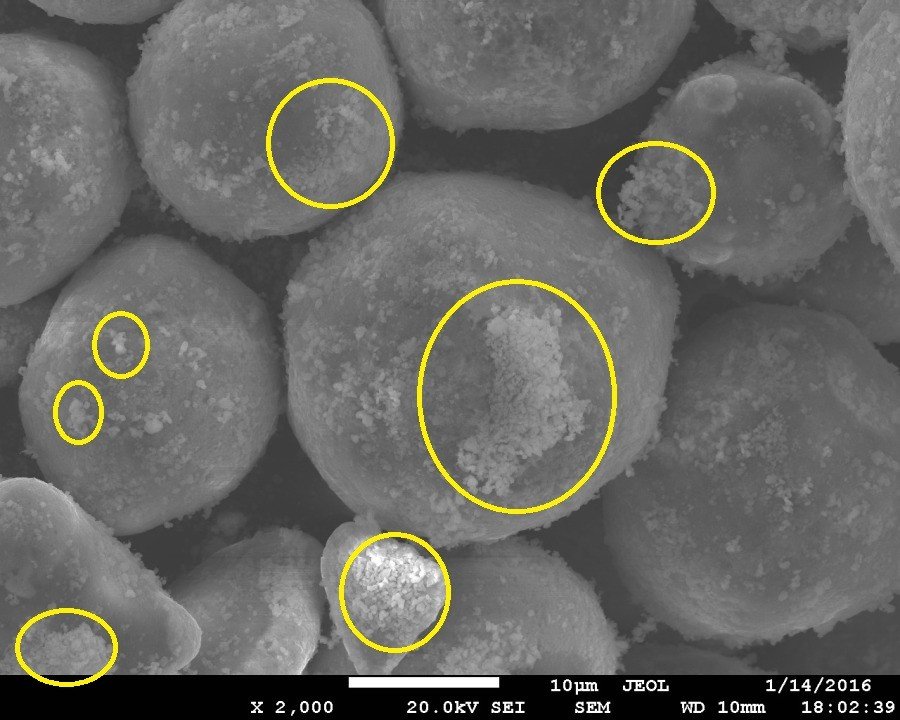 Input Powder Composite Powder
"Our international colleagues have a big problem: almost all of the laboratories of this kind are buying input materials – micropowders – for research at a huge price. We make this powder ourselves. For now, we have enough of it to support the laboratory," says Rustam Baitimerov.
Further a new stage followed – researching the use of composite materials in additive technologies. The researchers say that at this moment there are not very many laboratories in the world working on this, and right now this area of research is one of the most "fashionable" in the world. It requires a lot of financial resources, but also opens up great possibilities.
Researchers from different countries try to apply these technologies in many areas. Additive technologies is "today" for medicine and aviation building. For example, the Boeing corporation is currently developing and implementing an engine for the largest passenger plane into manufacture. It has components created by the method of selective laser fusion. In medicine, this method is used to create tooth and bone implants.
"To make a hip joint or part of the skull for a person, you need to create specific, individual pieces. They are made after 3D-scanning. Economically, this is not cost-effective for traditional methods. Additive technologies allow us to put a 3D model in the computer and receive a finished product in a few hours. We can even create implants with a porous structure so that the bone grows well into it," says Pavel Aleksandrovich.
Pavel Aleksandrovich tells us that the level of the results received allow them to participate in international conferences and publish work in international publications. In the last year, members of the collective have participated in conferences in Copenhagen, Bremen, Singapore, Detroit, and Munich. In July, as part of this work within the presidential grant, Rustam Baitimerov is planning on traveling to Seoul.
Today, SUSU researchers are preparing a few orders for grants to create a program for producing a series of composite products using heat-resistant or non-ferrous alloys and a ceramic phase. Their main task in the near future is to investigate how the whole range of mechanical properties for such materials is changing. The researchers hope that with good results, new prospects will open for the implementation of these composite products and technologies in the aerospace industry.