On May 24th the students and teachers of the Institute of Linguistics and International Communication celebrated the Day of Slavic Writing and Culture with a bang.
Per tradition, the student linguists were joined by students from the Institute of Social Sciences and Humanities and the School of Economics and Management.
Students from the Center for Sociocultural Adaptation of International Students worked for a few weeks on the Russian folk dance "kalinka". According to them, the most difficult thing in this dance is changing between fast and slow pace.
Marina Raevskaya, Candidate of Philological Sciences, associate professor of the Department of General Linguistics, participated as the organizer of this event and not for the first time. Under her guidance, students from China performed the song "V roshe pel solovushka" in Russian folk costumes. Marina Valeryevna says that students of different faculties and areas of study came together with great enthusiasm to organize the event, found costumes, learned poems, and gathered props.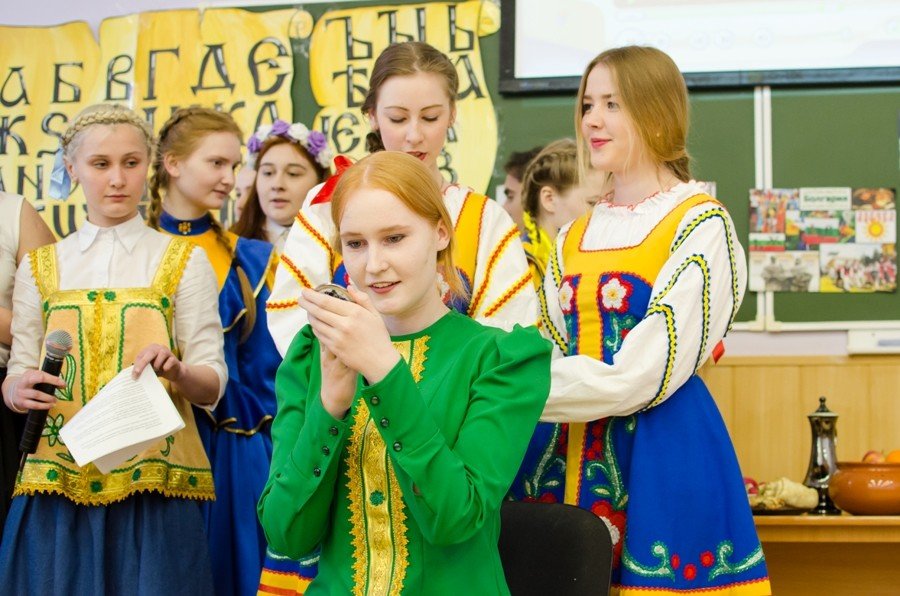 "Today the Slavic alphabet is 1154 years old. With our event, we are saying "thank you" to St. Cyrill and Methodius for the fact that we have such an inexhaustible source of knowledge which brings many people together. We are different, but all of us are joined by one thing – love for the Slavic language," said Marina Raevskaya, sharing her feelings.
The audience saw a performance by students entitled "How the Slavic alphabet was created", the main characters of which were Cyrill and Methodius.
"Cyrill and Methodius gave the people a unified alphabet, Vladimir the Great plowed our lands, Yaroslav sowed this land with books, and we are reaping the fruits of their labor. Let us not forget our history and our language," said the students, speaking to the audience.
Guests of the event especially remembered a Ukranian folk tale "Zhil bil pyos". Students of the ILIC surprised the audience with both their colorful garments and their performance of the ancient wedding customs of the Slavs: raspletin (relatives of the bride unbraid her hair), meeting the newlyweds with bread and salt (the bride and groom bite the loaf with salt) and they showed the ancient Slavic wedding songs and dances.
One unique gift for the guests was performances by international students from the Congo, Rwanda, Nigeria, Angola, Cote d'Ivoire, Iraq, Syria and Vietnam, Sri Lanka, China, and different countries.
At this event poetry was read in Russian, old Slavic, Bulgarian, and Ukrainian. The audience awarded each of the performers' acts with thunderous applause. By the way, all of the participants of the event were gifted bubliki (bagels) by the organizers, which the Slavs consider a treat.