By the end of the year one more interesting event took place in the South Ural State University. The Educational Mass Media Project "Акулы PеRа" gathered high school and university students. They were suggested to solve several tasks, working in teams during a week:
to analyze the fallen problem;
to survey a group of people or to interview an expert;
to prepare a correctly written article;
to make up the newspaper front page with original design, text and photos;
to create a video about team-work;
to introduce all this during the on-site presentation in a press conference format.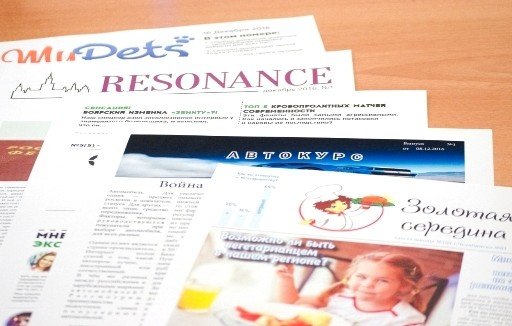 The main topic of the event and students' tasks this year was "The Uniting Power". This power had an effect on many people, especially the participants, and those who supported the event with prizes and gifts.
15 partners from 7 countries have joined the project, turning the event into an exciting and a wonderful ceremony. We are glad to introduce a list of our partners, their prizes, and gifts here.
We would also like to thank all our guests, helpers, jury members, and participants, of course.
The List of Jury Members
Elena Ponomareva – the chairman of judges, Institute of Socio-Humanitarian Sciences director, (South Ural State University), Doctor of Sciences (Philology), Associate Professor.
Alisa Pashchenko – the press secretary of the youth policy administration (Ministry of Education and Science, Chelyabinsk region).
Elena Markova – the head of the Special Projects department in Chelyabinsk branch of the federal publishing house "Komsomolskaya pravda".
Tatiana Ziabko – the layout designer of the multi-copy newspaper "Technopolis".
Ianis Grants – the literary editor, poet.
Olga Dunaeva – the lecturer of the Psychology Faculty.
The list of participants
The Team

Participant Name

District School Team «To4ka Zreniya»

Elizaveta Lebedeva

Anna Malberg

Valeria Buhanova

Aleksey Dolgov

Denis Vorobyov

Valeriya Shirochenkova

School № 104 Team

Nikita Khudiakov

Ilia Aistov

Ekaterina Abramkova

Diana Mendybaeva

Lev Belokobylskii

Alena Sokolovskikh

South Ural State University, Mass Media and Public Communications Department Team

Ildar Khasanov

Oksana Starovoytova

Anna Chaschina

South Ural State University, Russian Language and Literature Department Team

Mila Israilova

Daria Buzueva

Nadezhda Yegoryeva

Svetlana Antipina

Olga Vasilenko

South Ural State Humanitarian Pedagogical University, Philology Department Team

Elizaveta Kozina

Anastasia Didukh

Yuna Belyaeva

Alina Ananeva

Daria Lyshko
Photos