The first international conference dedicated to the upcoming 100-year anniversary of the October Revolution in Russia, Harbinger of a New Era: the October Revolution of 1917 and its Consequences, was held October 14-16 in the Academy of Political Education in Tutzing (Germany).
A number of researchers gathered to discuss scientific issues and the sociopolitical significance of this event in 1917 which radically changed the history of the world. This group included representatives of the SUSU Institute of Sociohumanitarian Sciences' department of history: head of the department of national and international history, Olga Nikonova, and department professor and director of the Cultural and Historical Research center, Igor Narskiy.
Igor Vladimirovich, beyond participating in the conference, also held a lecture for German schoolteachers entitled: "The October Revolution in the Soviet and German Collective Conscious". The lively discussions that accompanied the conference showed the fierce interest of foreign historical science in the joint discussion of key moments in Russian history.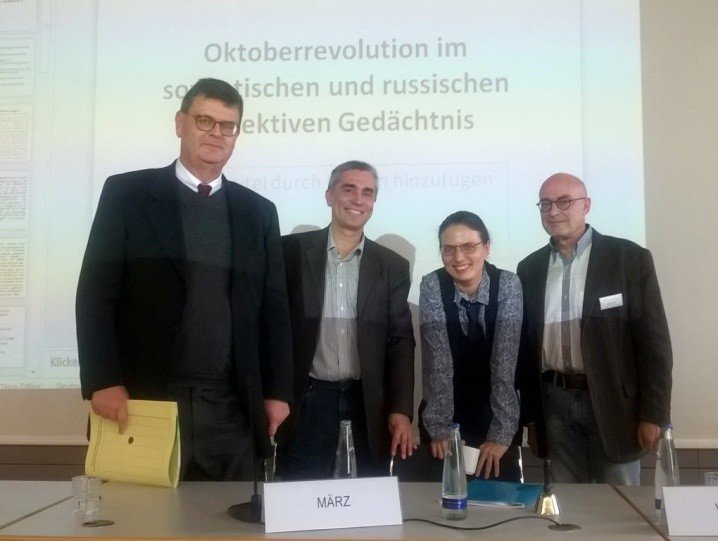 On October 25th, Olga Nikonova presented at the European University in St. Petersburg before graduate students and university employees. The presentation was dedicated issues of memories about the 1917 October Revolution in the USSR in counties of the eastern bloc in the years of the cold war. The topic was of great interest to the audience and was subject to lively discussion. The audience put forth questions about what Russian citizens will be celebrating next year – the Day of Divided Memory or the Day of Unity and Reconciliation. According to O.Yu. Nikonova, this question remains unanswered. The SUSU researcher believes that the historical society in Russia should put forth effort to historicize the October Revolution, moving this event from a topic of political disagreement to a topic of scientific analysis.