On Students' Day, January 25, South Ural State University and Coca-Cola Hellenic company signed the cooperation agreement for 2013-2015. Within the framework of this agreement Coca-Cola Hellenic company and SUSU continue the realization of joint programs for the support of talented students, graduates and young scientists.
The cooperation agreement was signed by SUSU Rector A.L. Shestakov and Director of Coca-Cola Hellenic branch in Chelyabinsk A.V. Bardakov on the traditional holiday of Tatiana's Day at the University.
For the first time the cooperation agreement was signed on January 25, 2007. For these six years 125 best students and graduates of SUSU became the winners of scholarships and grants of Coca-Cola Hellenic and 26 people went to London for the language courses.
Aleksandr Leonidovich Shestakov, SUSU Rector: "Student programs of Coca-Cola Hellenic company is a great chance and possibility of further growth and development for young people. I would like to thank the company for our long-term cooperation".
Tatiana Sidelnikova, manager of external communications of Coca-Cola Hellenic company in the Ural Region: "South Ural State University is one of the largest universities of the Ural Region which trains highly demanded specialists. The cooperation project with SUSU is one of the top-priority directions of socially responsible business which is implemented within the framework of education and culture support program".
If any question appears, please, refer to Natalya Pavlova
Tel: +7 (912) 77 85 881.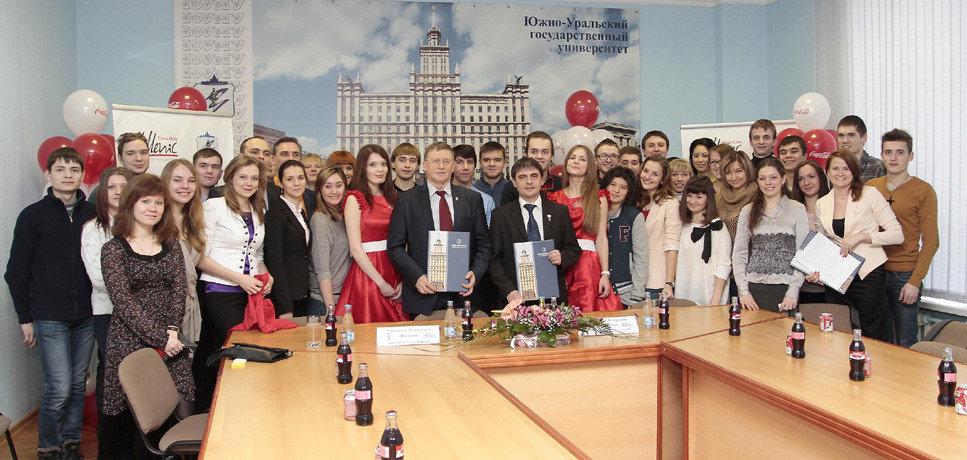 Event date:
Thursday, 31 January, 2013 - 15:00