"GTO badge can be seen on his chest, Who is the guy, it can hardly be guessed…" – these words of Samuil Marshak about an unknown hero can be referred to the most active students of SUSU Faculty of Trade and Economic. Now these badges are proudly shining on the chests of Lina Gileva, Gulnaz Nizametdinova and Artur Gasparyan. But unlike Marshak and his unknown hero, we know much more about the students of Trade and Economic Faculty.
Lina Gileva and Gulnaz Nizametdinova (third year students, specialty "Quality Control") and Artur Gasparyan (second year student, field of study "Commercial Business", specialization "Production Logistics") won the competition in passing norms of GTO (abbreviation for Ready to Work and Defense).
In Chelyabinsk on the base of SUSU a glorious tradition of the Soviet times was decided to be revived. Therefore, on December 14 under the patronage of Physical Education and Sports Faculty the first competitions since the revival of the tradition were carried out.
The guys competed in 100-metre running, 500-metre running (women) and 1000-metre running (men), long jumps, push-ups, shooting, swimming.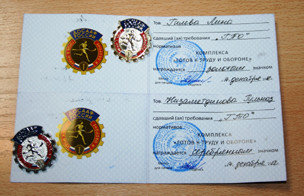 In individual classification Lina Gileva, student of Trade and Economic Faculty took the first place and GTO golden badge, Gulnaz Nizametdinova and Artur Gasparyan became silver medalists and were awarded with GTO silver badges. Besides, Lina and Gulnaz defended the reputation of their faculty by taking the first place in team classification within "Russia 1" team.
We remind that previously the idea of passing GTO norms ("Ready to Work and Defense") was the most popular physical training programme in general education, professional and sport institutions in the USSR. The programme existed since 1931 till 1991, comprised the population aged from 10 to 60 and was one of the crucial elements of young people's patriotic education.
The competitions in passing GTO norms became international and united students and schoolchildren from Russia, Iran, China and Sri-Lanka.
It is interesting to know that contemporary GTO norms differ a lot from the soviet ones. The soviet norms for today's youth are just unachievable, reported
Viktor Kuzenkov,
Chairman of Regional Council of Voluntary Special Movement (DON).
Event date:
Friday, 28 December, 2012 - 11:15