Address: building 1A, 76 Lenina pr.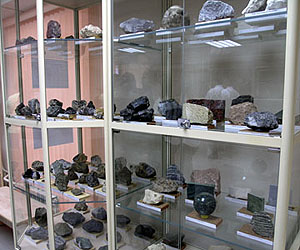 Phone: +7 (351) 267-32-11
Photo gallery
---
Director
Tatiana Ivanovna Taranina
---
The Geological Museum was opened at Architecture and Civil Engineering Faculty of SUSU on April, 12th, 2010. The exposition of the museum contains rocks and minerals that represent the natural wealth of the Urals region.
The museum is richly stored with iron, copper, nickel ores and raw materials for construction materials. Moreover, the visitors can find ornamental, semiprecious and precious stones. On the whole, the museum numbers around one thousand exhibit items. The Geological Museum is one of the most important culturological foundations of our university as well as a place for studies for students of Architecture and Civil Engineering Faculty and other faculties of SUSU.