South Ural State University Arts Hall was opened on May, 8, 2003.
The post of scientific supervisor is held by N.V. Parfentieva, professor, doctor of arts, honoured worker of arts of the Russian Federation.
The Arts hall was designed by S.L. Cherkashin, a famous Chelyabinsk artist. Arts hall is equipped in accordance with all rules for modern exhibition halls.
Over the years, the Arts Hall staged over 60 exhibitions where the artworks from Chelyabinsk Regional State Art Museum, Chelyabinsk Regional department of Union of Russian artists, "Gildiya masterov" creative union, and private collections were shown. Of special note are the expositions of Russian Academy of Arts and State Russian Museum. Moreover, the university starts to establish its own art collection formed by the presents of artists.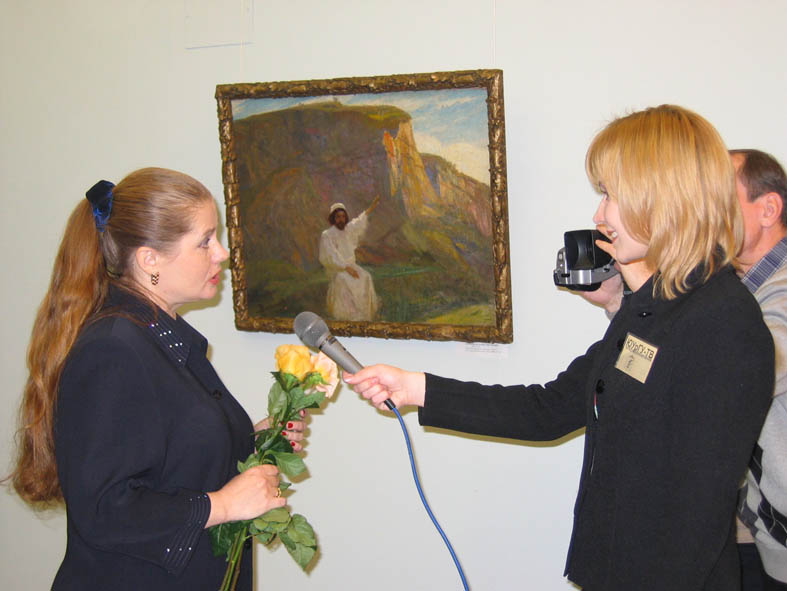 The Arts hall is open for all students and officers of South Ural State University as well as other higher education institutions, schools, and for city inhabitants. The main objective of all expositions is to impart the real art to the public. Entrance to all exhibitions is free. Usually, the audience of every exhibition numbers from several hundred to several thousand people. Exhibitions also include conferences, concerts, evenings with artists workers of arts.
The hall has established its own general movements for exhibitions. Exhibitions of classical art from state museums or private collections are considered as an academic movement. Main events within this movement were expositions including "Western Europe engraved portraits from 16th to 19th century", "I. K. Aivazovsky 'Farewell': one-painting exposition". Major South Urals collections were represented by paintings of the 2nd half of 20th century from Y. Ageev's collection, and an exhibition from the collection of O. Kalnin "Ural icons of 18th and 19th century". Furthermore, within the academic movement, an exposition from State Russian Museum was also held on November, 16, 2005. This project was a unique experience that was accomplished for the first time in Russia. It was the first time when worldwide-known center of Russian art exposed a part of its collection in a university exhibition hall. The exhibition was a great success.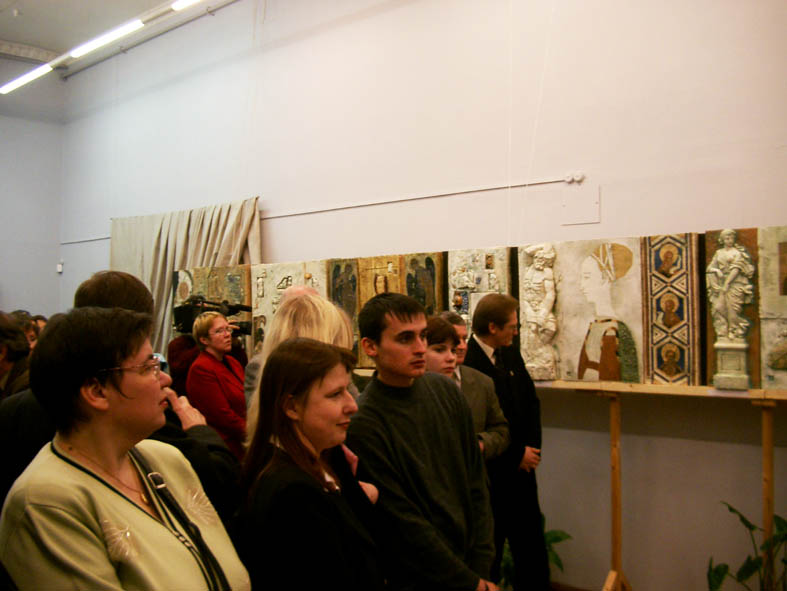 The next movement which reflected the lively spirit of modern art, was a series of exhibitions of pictures from artists' workshops and collections, courtesy of V. Vaganov, А. Kudryavtsev, L. Kudryavtseva, Z. Latfulin, V. Skobelev, D. Surin, S. Cherkashin, etc. Besides this exhibitions of monographical nature, a lot of highly successful thematic exhibitions were also held, including "Lanscape in the works of Russian artists", "A family of an artist", "Same old sky and same old land. in honor of the 110th anniversary of Sergey Esenin's birth", "In memory of a masterpiece", the exposition of artists from Chelyabinsk andEkaterinburg in honor of the 400th anniversary of Rembrandt, etc. A dramatic event within this movement was the exposition "Russian Academy of Arts presents: works of South Ural artists" opened in September, 2004.
Photography — another stratum of modern artistic culture – was not ignored either. Arts hall staged photo expositions, such as "Nobel stars in Russia" by S. Novikov, Ekaterinburg photographer, as well as the expositions of Chelyabinsk artists, including "The eyes of love" by L. Pilnikov, "Boldino autumn" by P. Bolshakov, "Mozart-transit" by G. Petrosova, "My dear fellow travelers" by E. Tkachenko, etc. The democratic art of photography arrested great attention of the audience. Photo expositions "A moment of utter happiness, or Tchaikovsky in Bohemia" and "Marina Tsvetaeva in Prague" staged together with consulate general of Czech Republic (Ekaterinburg) and International relations department of SUSU (by J. Trnovsky) became a true revelation.
Activities conducted by the Arts Hall also include exhibitions of amateur artworks by professors, officers and students of the University. It is not uncommon that amateur artworks could be compared with the professional ones. Such exhibitions bring people together, students get to know their professors better and begin to be deeply involved in the process of making art. For example, artworks by M.P. Mochalova, professor and honored architect of Russia, connected Russian aquarelle school and architect students. . Annual exhibitions containing graphic works created by SUSU architecture students during the trips to Czech Republic and Germany could be considered as student performance reports.
Comprehensive Arts Hall activities are conducted involving lecturers from Culturology and History of Art department. Such activities include scientific and methodological support for exhibitions, developing concepts, designing and publishing posters and catalogues, preparing excursions, and a lot more. SUSU Arts Hall became an art university lab for Art History studentsm where they can try themselves in tour guiding and art critics. The hall is an authentic practice school and a path to profession.
Opening and closing ceremonies are followed by meetings with artists, leading professional and student creative teams and solo performers. The Arts Hall has also become a place for evenings with artists, poets and actors that accustom university students to the masterpieces of Russian and world art. Among the most important, the meetings "Same old sky and same old land" in honor of the 110th anniversary since the birth of Sergey Esenin, commemoration meetings for Anna Akhmatova and Marina Tsvetaeva are worth mentioning.
At different times, the distinguished visitors of Arts Hall and Virtual Branch of State Russian Museum were famous politians, Russian and foreign scientific and politic elite, consuls of USA, Germany, England, Czech Republic, delegations from Democratic People's Republic of Korea, USA, Germany, England, Brazil, Romania, Hungary, Czech Republic, Austria, etc. as well as international conference participants.