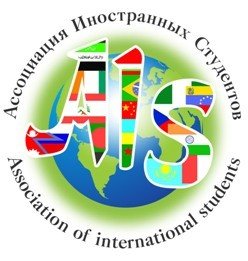 The Association of International Students is an All-Russian student organization that main goals are
to help in adapting to new students
to acquaint them with the features of Russian culture
to actualize international friends
Nowadays we are the South Ural Association of Foreign Students!
Have a question? Write to applicant[at]susu[dot]ru
AIS is the organizer national celebrity, such as Day of Arab Culture, Day of African Culture, Navruz , Tea Ceremony, International New Year, Culinary festivals; sport competitions (mini-football, basketball, tennis, etc.).
Our TUTORS are foreign students of SUSU who are happy to help new students. They have been living in Russia for several years and are educated at our university. Everybody can ask them questions about admission, education, campus, student life in SUSU.
View our photogallery!
---
President

Uvindu Wijeweera
---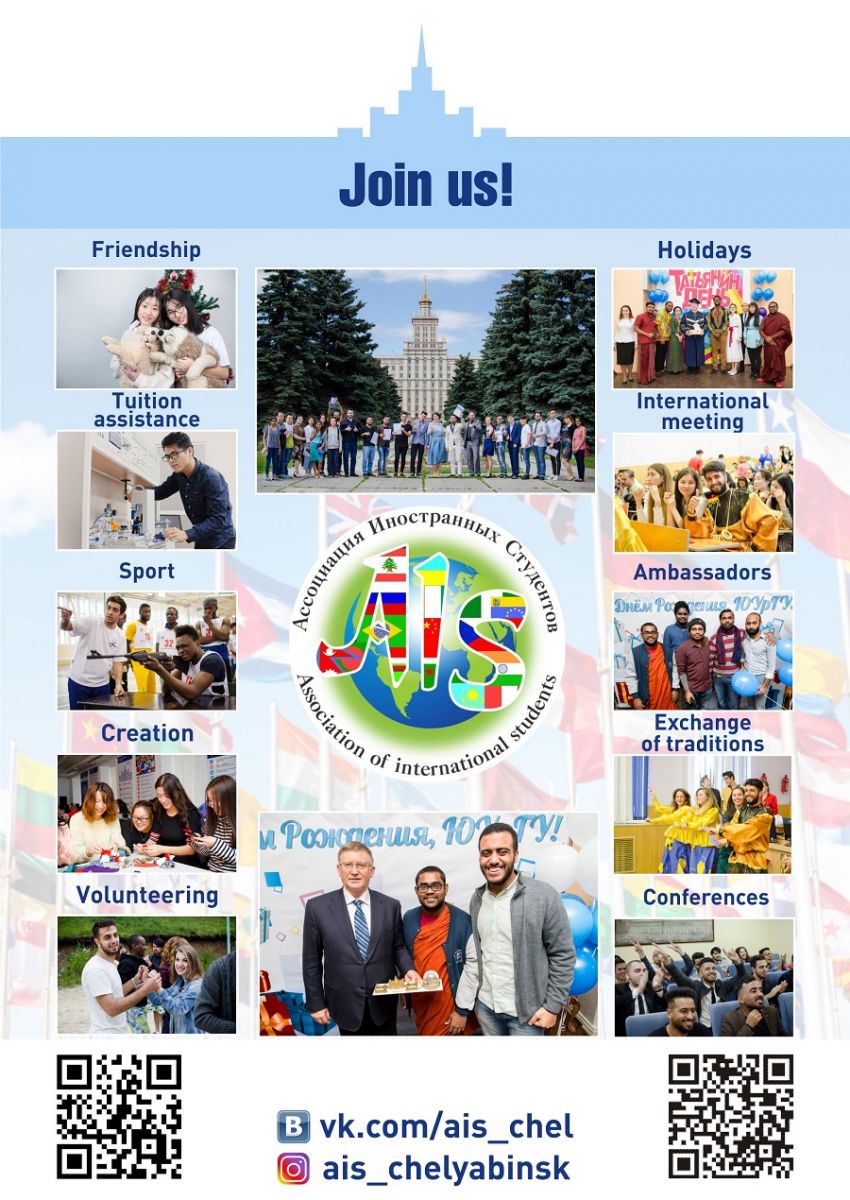 ---
Tutors
---
Africa

Gabriel Lubo

Ca fait deja presque trois ans que je suis entrain d'etudié à SUSU( South Ural State University) je ne sais pas qui peut me contredire cette université reste l'une de meilleur par leur organisation et par leur facon d'aider les etudiant étrangers, donc c'est un choix que personne ne peut regretté apres son admission à SUSU.

Algeria

Abdelali Habi

.أنا طالب في السنة الخامسة هندسة معمارية . وأعلم أن لكل شخص الرغبة بالدراسة في الخارج. وأنا بدوري إخترت جامعة اليورغو الواقعة بمدينة تشيليابينسك في روسيا. وهذا لتوفر الظروف الملائمة للدراسة و العيش بطمأنينة. وعن قريب إن شاء الله سوف أتخرج

Cameroon

Levis Tresor
Patiho Numbu

I've had the absolute time of my life so far, the year has gone so quickly and I've met so many like-minded and amazing people here. I can't wait to come back for a second year and I never want the experience to end!

China

Zhang Symen

南乌拉尔 国立 大学 不仅仅是 一 所 大学, 他 更像 是 一个 融合 了 各国 文化 的 大家庭. 他 帮助 我 成长, 我 爱 这 所 大学!

Egypt

Mohamed Elkalashany

الدراسه في جامعه جنوب الاورال ممتعة

Iraq

Abbas Mahdi Ketab Altabe

أنا أحب العراق ودائما مستعد لمساعده الطلاب الجدد

Jordan

Adnan Abo Olim

اسمي عدنان من الأردن ، وصلت اول مرة إلى روسيا قبل سنة ونصف ، أحب اللغة الروسية ، والحياة تعني لي النجاح والسعادة ، انا ادرس في جامعة جنوب الاورال، وهي إحدى أفضل الجامعات في روسيا ، ومدينة تشيلابنسك مدينة جيدة وهادئة، أريد إكمال الدراسة والعمل في روسيا في المستقبل

South Asia

Uvindu Wijeweera

මම රුසියාවට බෙහෙවින්ම ආදරය කරමි, විශේෂයෙන්ම චෙල්යාබින්ස්ක් නගරයටත් මගේ විශ්වවිද්යාලය වන දකුණු උරාල් රාජ්ය විශ්වවිද්යාලය ටත් එක ලෙසම ඇලුම් ඇලුම්. විශ්වවිද්යාලය තුල මම විවිද වැඩසටහන් සංවිදානය කරනු ලබනවා ඒ අතරම විවිධ වැඩසටහන් සහ ව්යපෘති සඳහා වන වන, මගේ ම වූ ව්යාපෘතියක් ලෙස පළමු රුසියානු සිංහල හට හැකිවිය.

Sudan

Mohamed Fager Taha

جامعة جنوب الأورال هي أسرتنا الشاملة, حيث تقدم معارف كثيرة وتعد كوادر مؤهلة.

Syria

Mohammed Abo Salem

جامعة جنوب الأورال الحكومية، واحدة من أفضل و أكبر الجامعات في روسيا. هنا الموظفين طيبين و دائماً يساعدون الطلاب و السكن الجامعي جيد جدا و نظيف. في الجامعة يمكنك أيضا دراسة الماجستير باللغة الإنكليزية في تخصصات معينة.

Yemen

Mohsen Haitam Mohammed Ali

جامعة جنوب الأورال الحكوميه تعتبر من أفضل الجامعات في روسيا الاتحادية وتشمل العشرات من التخصصات الهندسية والأدبية. يتوافد إليها طلاب من جميع أقطار العالم وفي السنوات الأخيرة صنفت من ضمن الجامعات الأفضل والأكثر تطوراً في العالم حسب التقييم العالمي QS،.