University Goals and Key Performance Indicators
At the South Ural State University we endeavor to become a world-class research university with strong entrepreneurial culture and specialization in Supercomputing, Engineering, Natural and Life Sciences. Achievement of this goal will provide University with a rank in top-100 universities according to major global rankings (THE or QS), as well as top-100 positions in the following subject rankings: Computer Science, Mechanical, Aeronautical & Manufacturing Engineering and Materials Science. In line with the goal of becoming a top-100 university, SUSU has set specific strategic goals in Education, Science, Governance, Funding and Infrastructure.
Strategic goals by activity
Activity

Strategic goals

Education

Global leadership in supercomputing and space engineering education

Integration of students and faculty into international community

Science

Enhancement of the University scientific activity to the world-class level
Achievement of globally recognized scientific breakthroughs in the fields of specialization of the University
World-wide commercial success and recognition of leadership in innovations

Governance, financing and infrastructure

Diversification of the University funding
Best-in-class operational efficiency
Construction of a new campus according to international standards
Introduction of the new, client-oriented model of the University
SUSU Competitive advantages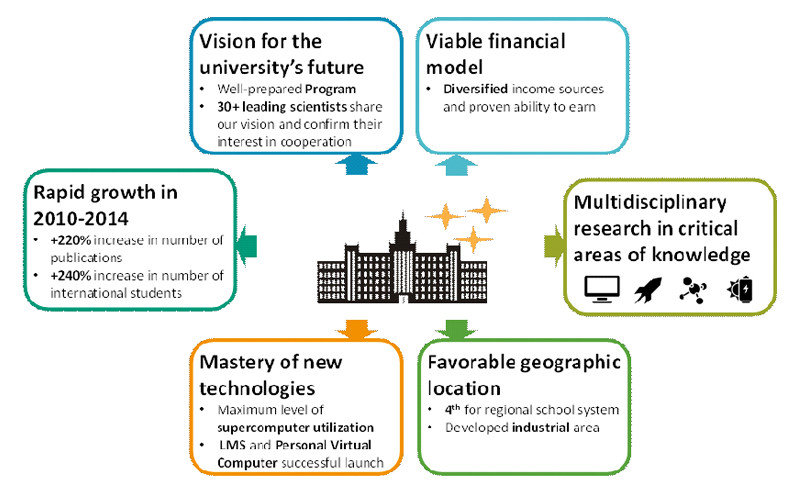 The University will monitor the progress towards the goal with the help of key performance indicators (KPIs) detailed in the table below. In addition to seven obligatory KPIs it contains three additional KPIs aimed to control Master's and PhD's students' share growth, number of joint study programs and programs offered in English language as well as the progress of the University in the Webometrics ranking.
Obligatory and additional KPIs
№

Mandatory KPIs

UOM

Target values

2016

2017

2018

2019

2020

1

Position in global university rankings

1.1

Rank in THE

Rank

701+

650-700

450-500

1.2

Rank in QS

Rank

701+

650-700

450-500

250-300

1.3

Rank in QS «Computer Science» subject ranking

Rank

350-400

300-350

1.4

Rank in QS «Mechanical, Aeronautical & Manufacturing Engineering» subject ranking

Rank

250-300

250-300

200-250

1.5

Rank in QS «Materials Science» subject ranking

Rank

150-200

2

Number of articles in the Web of Science and Scopus after eliminating duplication per academician/researcher

Number

0,5

0,8

1,3

2,1

3,4

2.1.1

Number of articles in the Web of Science per academician/researcher (5 years)

Number

0,3

0,4

0,7

1,2

2,0

2.1.2

Number of articles in the Web of Science per academician/researcher (3 years)

Number

0,2

0,3

0,6

1,0

1,6

2.2.1

Number of articles in the Scopus per academician/researcher (5 years)

Number

0,5

0,7

1,2

1,9

3,1

2.2.2

Number of articles in the Scopus per academician/researcher (3 years)

Number

0,4

0,6

0,9

1,5

2,5

3

Average citation index per researcher/academician measured by the total count of articles included in the Web of Science and Scopus databases with elimination of their duplication

Number

0,7

1,0

2,3

5,2

11,6

3.1

Average citation index per researcher/academician measured by the total count of articles included in the Web of Science database

Number

0,3

0,5

1,2

2,9

6,8

3.2

Average citation index per researcher/academician measured by the total count of articles included in the Scopus database

Number

0,6

0,9

2,1

4,7

10,6

4

Proportion of foreign professors, academicians and researchers in the total headcount of researchers and academicians, including Russian nationals holding a PhD from foreign universities

%

1

2

3

5

10

5

Proportion of foreign students enrolled in the main educational programs of the University (including students from the CIS countries)

%

9

10

12

14

18

6

An average USE (Unified State Examinations) score of full-time students enrolled at the University with their tuition to be paid out of the federal budget under bachelor and specialist degree programs

score

67

69

72

75

78

7

Proportion of revenues from non-budget sources in the structure of the University's revenues

%

45

45

45

45

45

Additional KPIs

1

Share of master's degree and postgraduate students in total

%

27%

30%

35%

38%

40%

2

Number of educational programs implemented in partnership with leading international universities and research organisations

Number

5

8

12

16

20

3

Cumulative rise in Webometrics ranking

Rank

100

200

300

400

500