Developments of the Center of Computer Engineering were presented successfully at an international engineering congress in London.
As part of the World Congress on Engineering 2017 July 5th through 7th at the Imperial College, the world's leading specialists discussed achievements in the areas of engineering, mechatronics, automobile manufacturing, and robotics. The Congress is one of the key events of the International Association of Engineers (IAENG). In 2017, the congress gathered 700 participants from more than 13 countries around the world. There, research from the SUSU Center of Computer Engineering was presented for the first time. Postgraduate student of the SUSU Polytechnic Institute and staff member of the CCE, Aleksandr Alyukov, presented two projects illustrating the Center's key achievements. He spoke about the results of research under leadership of the vice-rector of Strategic Development and research head of the CCE, Andrey Keller, and professor from the Automobile and Tractor Engineering Faculty, Anatoliy Dubrovskiy.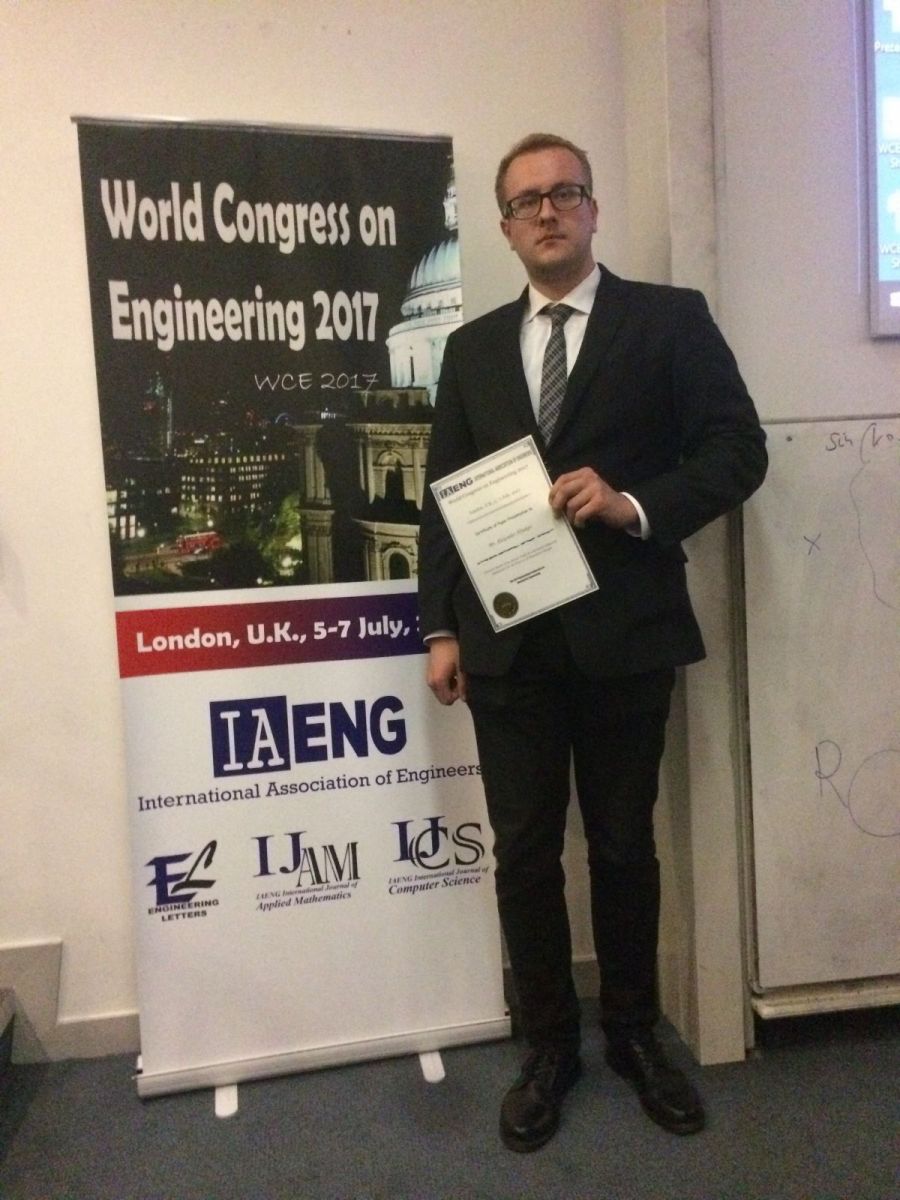 Aleksandr Alyukov
The presentation on modeling vibrations in mobile manipulator platforms – the result of robotics research at CCE - was of great interest to the Congress participants. Aleksandr presented an innovative concept of a mechatronic, robotic system and talked about the key features of modeling crane loaders and manipulators installed to them. The second presentation by the young researcher was dedicated to the specifics of adaptive automotive suspension. He presented a new suspension design consisting of an adaptive shock-absorber and spring element with non-linear work characteristics.
"Participation in international forums gives us a chance to get the international scientific community interested in our developments," notes Aleksandr Alyukov, "Presenting at a congress of this level is valuable experience for me as a researcher."
The presentations from SUSU CCE researchers were published in a collection of the World Congress on Engineering 2017 materials, indexed in Web of Science and Scopus. In addition, they will be considered for possible publication in special editions of scientific journals and collections of materials of IAENG.
The next congress of IAENG will be held in San Francisco. Engineers of the CCE plan on presenting research in robotics and automobile manufacturing which will enable more active internationalization of the university. In addition, the center plans on building collaboration with research collectives from Germany and Spain.
Event date:
Sunday, 16 July, 2017 - 10:45