SUSU amongst the top  global Universities
QS-BRICS- 151 – 200 
http://www.topuniversities.com/university-rankings/brics-rankings/2015#s...

RankPro- 412
http://www.cicerobook.com/userfiles/files/A_RankPro_GWC_2015.pdf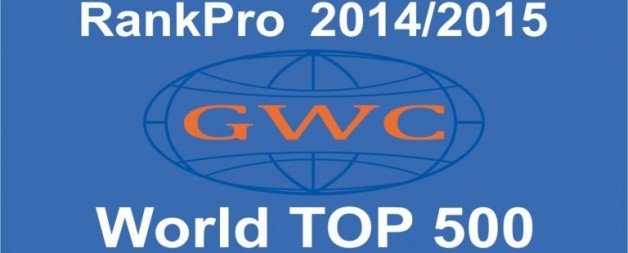 SUSU amongst the top  Russian Universities
Interfax – 62 
http://univer-rating.ru/rating_common.asp
ExpertRA - 48
http://raexpert.ru/rankings/vuz/vuz_2015#vuz_raiting
                                                                           Key figures
2000

international students from

37

  countries

More than

150

academic and administrative staff go for internship annually  

Annually, more than 260 SUSU academic staff undertake internship on LINGVA-course programme

Partnership with more than 100 international  Universities

More than 6 million rubles won in externally funded research in last 2 years

About 50 students in double degree programs annually

About 90 international students participate in summer schools annually

10 programs in the English language
International faculty
Dear international colleges, welcome to SUSU!
We are very happy to host international scholars, teachers and researches in SUSU. We are trying to create a unique environment for education, collaboration and cutting-edge research. Every year international teachers from different countries visit our University .
Getting ready to come to SUSU?
Connect with the International affairs division and we will answer all the questions regarding your visit. ( E-mail: ivlevada[at]susu[dot]ru, tel: +7(351)267-97-98)
We are proud of our international teachers
Manuela Prieto
Country: Spain
Teacher of the Spanish language
Human Resources
The University HR strategy aims to enhance its staff members' professional skills and boost their productivity, as well as recruit young, world-class academics and administrators. 
The University focuses on three areas in developing its human resources:
International recruiting of faculty and administrators
Developing the professional skills of its staff
Improving organisational structure
To recruit world-class academics and administrators, the University is building an international recruitment system. The main recruitment tools will include:
keeping the target audience informed about job opportunities at the University
stepping up activities within the partnership network of leading global universities
offering flexible forms of cooperation, both in timing and level of engagement
putting together a competitive remuneration system that features world-level salaries and social bonuses
setting challenging research tasks and providing unique scientific equipment
As part of these measures, it will be extremely important to recruit a top-class foreign administrator with a wide network of contacts and to establish an International Scientific Advisory Council. Such measures are vital to success in attracting world-class academics according to the experience of higher educational institutions participating in the 5-100 program. The University seeks to form a critical mass of international researchers that will provide a wide range of contacts with global research centers and ensure its integration with the international academic community.
SUSU intends to organise its international recruitment efforts based on the experience of the selected benchmark universities. For example, Tsinghua University has had notable success in recruiting professionals to a leading emerging market. Research teams within priority research areas may issue grants that are earmarked exclusively for recruiting foreign professionals. As a rule, cooperation starts with short-term, one-year contracts that can be extended to longer periods.
Below is a list of world-class specialists who are partners of SUSU and whom the University intends to offer engagements in joint research projects or positions as leading researchers. 
If you want to teach, do research or conduct a course in SUSU you should take the following steps:
Fulfill the questionnaire and send it to the International affairs division ivlevada[at]susu[dot]ru.

Apply to the Migration service department to get invitation on behalf of South Ural State University for entry to the Russian Federation. Attach        the scan copy of the passport. If the international citizen has a current valid visa not from SUSU he is not allowed to work in SUSU.

The invitation will be ready in 30 days and will be sent by e-mail.

The foreign citizen, having the invitation of South Ural State University, should issue a visa.

Inform the International affairs division about your arriving date.
Prospective Student Acquisition Strategy
The University aims to recruit best talent both for undergraduate and graduate programs and expand the geography of admissions.
Target model of the market for prospective students
Total amount of SUSU students will be 15000 in 2020, which means a 15% decrease from current numbers. Simultaneously the share of Master's and PhD's students will grow to 40% of the total student population.
The University preferred instruments of recruitment and target audiences differ depending on the region:
applicants from Chelyabinsk and the Chelyabinsk Region
applicants from the Southern Urals and Western Siberia macroregion
applicants from other regions of Russia
Russian-speaking foreign applicants
English-speaking foreign applicants
Applicants graduating from schools in the Chelyabinsk Region demonstrate a solid academic grounding and knowledge base, as shown by their average Unified State Examination (USE) scores (see table below). SUSU's home macroregion includes several Russian Federation constituent regions, including the Chelyabinsk, Kurgan, Orenburg, Tyumen and Amur regions, the Khanty-Mansiysk and Yamalo-Nenets autonomous districts, and the Republic of Bashkortostan. SUSU is highly competitive in the local education market in these regions. Applicants from other regions of Russia will be recruited to the University's elite academic programs. 
Applicants for engineering and technical disciplines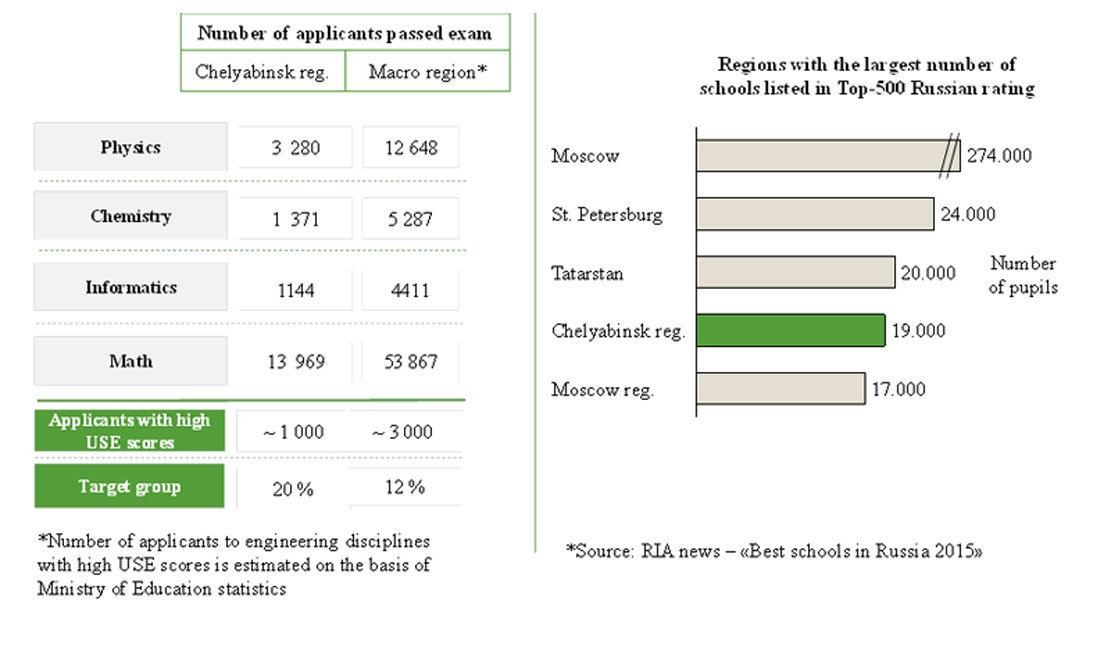 Source: High School of Economics's monitoring, University's data
SUSU can capitalise on its proximity to Russia-Kazakhstan border location and expand the geography of its student admissions. The main international markets where prospective students have been recruited are Central Asia, the Persian Gulf, South-East Asia and China. The University admits foreign students for both Russian- and English-language programs. More than 200 students are already enrolled in Masters and Bachelor's degree programs taught in English.
List of current joint and English-language study programs
№

Description of joint programme

Partner

1.

Innovation Studies

Lappeenranta University of Technology, Finland 

2.

Electrical and power engineering: renewable energy sources

3.

Fundamental informatics and information technology

4.

Management

Clark University, United States

5.

Business valuation and corporate finance

Zhejiang Ocean University, China

6.

Marketing

St Mary's University, United States

7.

Flight operation of aircrafts

ChelAvia Training Center

8.

Physical and chemical continuum mechanics

Zababakhin Scientific Research Institute of Technical Physics 
| | |
| --- | --- |
|   | English-language programs |
|   | Bachelor's degree programs |
| 1. | Mechanical engineering automation, Electrical and mechanical engineering |
| 2. | Chemical engineering |
| 3. | Economics and finances, Economics, Financial management, Banking and financing |
| 4. | Commodity science, Food technology, Food products of animal origin |
| 5. | Linguistics  |
|   | Master's degree programs |
| 6. | Database Technology |
| 7. | Economics |
| 8. | Philology |
New English-language Master's degree programs are planned to be launched in the near future:
Computer science: Fundamental Computer Science and Information Technology: Database Technologies; Highload Systems Development; Computer Modelling of Technology and Processing of Composite Materials etc.;
Engineering: Information-Measuring Engineering and Technology in Innovative Industry Projects;
Natural Sciences: Applied Mathematics and Physics; Mathematics; Chemistry, etc.
As SUSU's survey of prospective students shows, the most important recruitment factors are the University's prestige, quality of education, and the overall experience of studying at the University (academic, social life, sports, etc.). SUSU's marketing strategy is focused on leveraging the aspects of the University's value proposition, perceived to be most significant by prospective students.
SUSU's offering includes quality academic programs in engineering disciplines that are in demand by employers in the regional labour market. The overall experience of studying at SUSU includes a vibrant cultural life, sports events at the University's Olympic-grade athletic facilities, and the opportunity for students to get involved in research projects.   Chelyabinsk is a tranquil, liveable city with over one million inhabitants, which boasts highly developed, accessible infrastructure. Adjacent to the SUSU building lies an old-growth forest that is a natural extension of the University campus.
In line with its marketing strategy, SUSU has organised the Zvezda (Star) National Competition and the Budushee Rossii (Future of Russia) National Engineering Competition organized along with several other academic competitions with more than 200,000 high school students participating. To further its marketing strategy, the University will deploy the following tools:
Differentiated scholarships for applicants with high USE scores
Selective recruitment of applicants from schools with high average USE scores through offering professional navigation and University classes
Partnerships with universities without master's degree programs
Development and promotion of massive open online courses (MOOC)
Currently, a shortage of dormitory space is hindering the University's marketing efforts. To resolve this issue, a new world-class dormitory will be opened by 2018.
Staff responsible for different fields of international activities
Alexander Deev  

General management of International activity

Assistance in the management of recruiting and admission (in cooperation with the basic student units) of the international students to undergraduate, graduate and postgraduate studies;

Stay management (meeting, transfer, accommodation, etc) of the international applicants from non-CIS countries, in cooperation with the relevant departments and units of the university;

Planning and development of the SUSU priority scientific, educational and cultural ties to People's Republic of China

Coordination of the cooperation within the Association of Sino-Russian technical universities (ASRTU);

Assistance in the organization of internship programmes as a part of National Research University programme

Organization of extracurricular activities for SUSU international students

Association of Internation Students coordination

Development of SUSU priority areas of scientific, educational and cultural ties with educational institutions of China

 

Cooperation with international and national university  ranking agencies

Cooperation with international academic exchange service

International academic staff recruitment

Preparation of presentation materials

Participation in International Education exhibitions

Project development as a part of international cooperation programmes;

Commercial development;

International partners network establishment

.

 

Application form submission;

Support for research grant proposals;

Project management.

Development of the priority directions of scientific and educational relations between South Ural State University, CIS countries and the Middle East region;
Preparation, realization, translation of protocol events, foreign delegations' reception;
Interaction with the diplomatic bodies for the purpose of international relations' development;
Organization and realization of the international negotiations;
Assistance in organization of university's global activities.

Academic сredential assessment ;

Credit transfer procedures;

Upgrade courses guidance;

Foreign and national  education monitoring and consulting

Interaction with structural subdivisions of the University on the issues of migration support international students and staff;

preparation of invitations for foreign citizens;

registration and renewal of multiple entry and transit visas.

Svetlana Novozhilova 

Interaction with structural subdivisions of the University on the issues of migration support international students and staff;

migration registration of students and staff visa countries( registration, removal, readressing);

notice of termination completion of the education to the Office of the Federal Migration Service.

 

Visa support;

Interaction with structural divisions of the university on migration support of international students and employees; 

Holding annual information days for international students and employees involving representatives of the Directorate of the Federal Migration Service in the Chelyabinsk region; 

Preparing formal request to the Federal Migration Service of Russia, Ministry of Foreign Affairs and other organizations that regulate international activities of educational institutions;

Monitoring compliance with the Russian legislation in migration control by international students;

Notifying the DFMS on conclusion/termination of employment contract with international employees.