In 2015 Russia celebrated the 70th Anniversary of Victory over the Fascist Germany. Many generations came and went after the war had been over, but the Great Heroic Act of the Soviet people is still shining bright.
As it happens, millions of our fathers and grand-fathers died or have gone missing at the battle fields of the Great Patriotic War, or in Afghanistan and Chechnya… They fought so that we could live, their blood was spilled to protect our freedom, they gave their lives so that we could get a chance to be happy. Nevertheless, many of them did not even get a proper burial. There is no place where their children, grandchildren and great-grandchildren could come to, lay a wreath and silently thank them for their courage. There is no place where their souls could rest in peace.
But war is not over till the last soldier is buried. Do not believe those who say that "modern young people are good for nothing" or "the present day generation does not know what it means to be patriotic". They do know! There are people in Russia, elderly, adults, and some very young ones, who cherish the history of our country and who respects the memory of the heroes of their Motherland.
Over three million soldiers are still lying there, at the battlefields. In order to commit them to earth, all these years after the war, the activists have started to create military-and-patriotic organizations all over the country. An all-Russian campaign "Memory Watch" is held every year. Patriotic squads of South Ural do not stand aside, they also take part in the excavations searching for the remains of the missing soldiers. For them it is a matter of honour, to find and bury every soldier, and if possible – find out what his name was.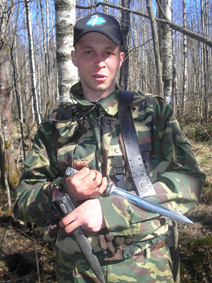 In 2004, a freshman student of the SUSU Automobile and Tractor Engineering Faculty, Andrey Platonov (a scout with four years of experience), established Poisk Military-and-patriotic Club at the University. Over the two years of its existence, the Club has organized a great number of meetings with students, workshop-and-exhibition visits to Gymnasium No.23, Lyceum No.11, as well as Orphanage No.5.
The Poisk scouts undertook 4 expeditions to the Leningrad Region, to Sinyavino heights. They excavated the remains of more than 50 people and three posthumous medallions (they were able to read two of them, and find relatives of one of the medallion owners), and took part in a relief trip to a military hospital in the North Caucasus Military District. The Club scouts visited Moscow under a charity program to participate in campaign "Let's Bring Back the New Year to Our Veterans".
Besides organizing the search work and exhibitions, the Club provides trainings on mountain climbing, topography and tourism, as well as military and sports training and hand-to-hand fighting. Poisk is proud to have friends and fellow-thinkers. The Club is actively collaborating with the Museum of SUSU History, "A Helping Hand" Social Support Center, "Shield" Student Law Enforcement Squad, and the SUSU Council of Veterans. In the nearest future, the Poisk scouts are planning to create a weapon pit and organize summer education-and-training recreation camps.
Over the period of its activities Poisk has gained a reputation of a strong and responsible organization. The scouting squads from all other Russian cities respect these guys and know that they are able to keep working even in the most difficult conditions. It is this squad that is normally being sent to the hardest sights during search expeditions. The Club's activity has been recognized by awarded certificates and honorary mentions by various organizations. By the way, the first Club's graduate has already completed his service in the special forces of the Strategic Missile Forces at the Russian Federation Armed Forces.
The SUSU Poisk Military-and-patriotic Club provides students and school pupils with an opportunity to do useful and noble work. You will not find random people here, since one cannot force a sense of duty and the feeling of love to his/her country onto someone. Every member of the Club has joined it out of his/her own will. People change when they come here, and quite noticeably too. Besides the required knowledge, military training and gaining new friends, they get a chance to personally influence the course of our history, play his/her small part in the destiny of a soldier who did not come back from war.
On March 30, 2016 the representatives of Poisk Student Scouting Force met pupils of grade 8"А" of Municipal Budgetary General Education Institution Lyceum No.120. The students told the Lyceum pupils about the history of establishing of the Poisk movement, about its activities and participation in the expedition to Sinyavino heights in the Leningrad Region in spring of 2015. The pupils were especially interested in the exhibit items found during the excavation. And a documentary on the summer expedition shot by Tatiana Chicherova left a great emotional impression on them.
"We are very grateful for this informative and emotional discussion which is of an important educational value. Thank you, guys, for what you do, for your sound attitude to our country and our history," says N.N. Vasilyeva, Teacher of History and Social Science at MBGEI Lyceum No.120.