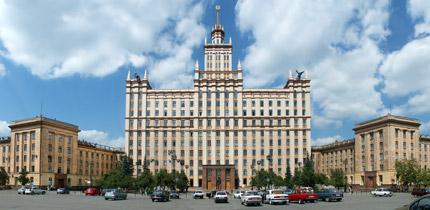 Federal State Funded Educational Institution
of Higher Professional Education
"South Ural State University"
(National Research University)
South Ural State University is the center for educational, scientific, cultural and athletic activities in the city Chelyabinsk and the region.
Founded in 1943 as Chelyabinsk Mechanical Engineering Institute, the university was reorganized into Chelyabinsk Polytechnic Institute in 1951, and in 1990 it became the Chelyabinsk State Technical University.Since 1997, the university is known as South Ural State University. In 2010 it was assigned the status as a National Research University.
The university is ranked as one of the top 10 among 96 Russian universities according to the rating compiled by the Ministry of Education and Science of the Russian Federation. It is also a member of Russian universities' Alpha League, which is a top part of the rating among all universities of the country.
Today, South Ural State University is comprised of 32 faculties and 142 departments located in Chelyabinsk, in addition to 2 branches in other cities. The structure of the university also includes four secondary vocational education institutions, military education and college preparatory faculties, two special faculties of professional development and skill upgrading for university degree specialists, an Institute of International Education, a Continuing Education Institute and a Open and Distance Education Institute. University together with its branches numbers around 50 000 students (full-time, part-time and evening education combined).
Educational process in the university with its branches is supported by over 5000 lecturers and officers, including more than 360 professors, doctors of science, 1200 associate professors, candidates of science, 5 full members of The Russian Academy of Sciences, 9 corresponding members of RAS, 2 academicians and 4 corresponding members of other state academies, and over 170 members of foreign and Russian academies.
Current university license allows South Ural State University to provide:
245 higher professional education programs (Specialist's, Bachelor's and Master's programs);
37 secondary vocational education programs;
22 elementary vocational education programs.
The university also offers postgraduate education programs in 86 academic majors, doctorate programs in 12 majors, and facilitates 18 dissertation committees that examine doctoral and candidate's dissertations.
College preparatory faculty is comprised of School of Mathematics and Physics and a center of education for gifted children. SUSU cooperates with over 20 schools and 10 technical schools. The university actively participates in a scientific and social program for youth and school students, "Step into the Future". Upon the initiative of South Ural State University, the Russian association of the international program "Odyssey of the Mind" was created, and Chelyabinsk for many years has been representing our country in this association.
University pays much attention to all types of internships and employment of graduates. Founded in 2005, the Department for Internships and Employment of Graduates supports the coordination of all university departments and business interactions and of the federal agency for education and employment services, offers methodological support for internships, conducts job market researches, and organizes the operations of faculty committees that facilitate employment of graduates.The university has concluded over 400 cooperation agreements with large-scale enterprises of Chelyabinsk and Chelyabinsk region.
In March 2006 Chelyabinsk Regional Center for Employment Promotion for higher professional education graduates was established on the basis of the department. On its website students and graduates may post their CVs and find job offers.
South Ural State University actively engages in scientific, research and project activities. The following organizations operate on the basis of the university: Radioelectronic and digital systems research institute, Institute of chemical problems of industrial ecology at Russian academy of natural sciences, "FESTO" Urlas Automation Center, the R&D manufacturing institute "Engineering and technology for education", Chelyabinsk research center at the Ural Branch of Russian Academy of Sciences, 10 Institutional Academic laboratories. Over 50 schools of thought have formed and now operate at the University.
The university comprises a unique spacecraft and missile center exposing the only collection of fleet ballistic missiles, propulsion and control systems in the world.
SUSU intensively collaborates with major manufacturing enterprises including Metran Industrial Group which is the strategic partner of the University in the development of intelligent automation equipment and personnel training.
In 2004 on the basis of SUSU distance education institute, which was founded in 2001, Open and Distance Education Institute was established. The basis for the activities of the Institutes was provided by the experience and developments of distance education institute, such as document support of educational structure management using distance education technologies; methodological framework for distance education resources; skill upgrading system for higher education teaching personnel; research and development etc.
In 2003 SUSU created the art hall and exhibition center «Science and Technology in South Urals». In 1980 the Museum of University History was opened. The research library at SUSU is the largest university library in the region. Total library stock numbers about 3 million items. The library provides full Web access to an electronic catalog, a collection of full text online versions of SUSU educational materials and synopses of theses. The publishing center posesses a modern printing foundation.
Since 1956 "Technopolis" newspaper is issued in the university. In 2002 the University's television and radio broadcast training center was opened. In 2005 – the television and radio broadcasting company "SUSU-TV" became the first student-run broadcasting company in Russia. In the following year, SUSU introduced the internet broadcasting of the University's radio station.
The Art and Leisure Center has operated for more than 50 years. In 1963, the student theater "Maneken" was created at the university, and in 1996 it was transferred to municipal property. Many creative teams headed by leading choreographers, musicians and stage directors of Chelyabinsk professionally perform on the stages of the city and the region.. They hold the awards of national and international competitions.
Since 2002, the Athletic and Physical Training Club was opened in the University. SUSU Sports Center includes an indoor track, one of the largest swimming pools in Russia, and a winter stadium. At the Bolshoy Sunukul lakeside there is a recreational camp "Nauka", a sports and recreation student camp "Olymp", and "Berezka," children's holiday camp.
In the year 2012 the 200,000th degree specialist will graduate from the University.
Many famous politicians, scientists and economists hold the degree of the University. Among them are V. B. Khristenko, the Chairman of the Board of Eurasian Economic Community (EAEC); P. I. Sumin and M. V. Yurevich, the former governors of Chelyabinsk oblast; V. V. Myakush, the head of Legislative Assembly of Chelyabinskaya oblast; and V. V. Kostyuk, the principal academic secretary of the Russian Academy of Sciences Presidium. Many notable graduates of the university now lead the major manufacturing enterprises of the country: "Metran" Industrial group, CTZ, UralAZ, Mechel's Chelyabinsk Metallurgical Plant, Сhelyabinsk Electrometallurgical Integrated Plant, Mayak Production Association, Stankomash, Makeyev Design Bureau, Zlatoust machine-building plant and many more. SUSU academic rector A. L. Shestakov and G. P. Vyatkin, president of SUSU, corresponding member of RAS, are also alumni of SUSU.
Since the very foundation the university follows highly innovative direction. The University has won over 50 competitive desprojects. In 2008 alone, SUSU had won 13 projects within the "START" program and 11 within the "U.M.N.I.K" program.
In 2006 "SUSU-Polet", the first technology park in Chelyabinsk oblast, was created.
In the beginning of March, 2007, South Ural State University won the contest for best innovation program at institutions of higher education that was held as a part of "Education" national priority project. South Ural State University with "Energy-saving and resource-saving technology" program was named among 40 winners.
In 2010 SUSU was assigned with National Research University status. Development priorities of South Ural State University (National Research University) include: energy-saving in social services; efficient energy and resource use in metallurgy; energy-efficient and resource-efficient diesel engine manufacturing technologies for engineering and military engineering vehicles; resource-efficient development and operation technologies for fleet ballistic missiles; and supercomputing and grid computing technologies aimed at solving energy saving and resource saving problems.