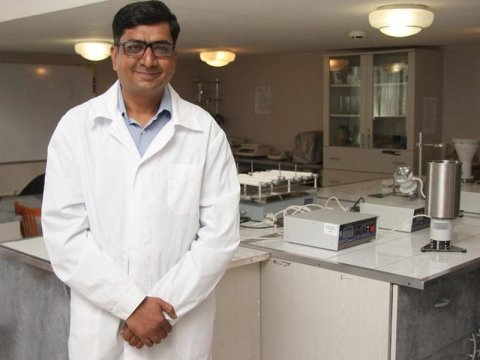 In a working visit, international curator of the SUSU Laboratory for Synthesis and Analysis of Food Ingredients, professor Shirish Sonawane (National Institute of Technology, Warangal, India) visited SUSU last week. He manages work tied to the realization of ultrasound technologies, specifically – the synthesis of food ingredients, extraction of food ingredients, and the possibilities of their use.
"Our Department of Food Biotechnology in the School of Medical Biology has been working on this problem for 8 years already. Now that we have the opportunity to combine this work with the research of international scientists and look at our achievements in joint research, we understand that we can achieve a huge positive effect," says Irina Potoroko, doctor of technical sciences, head of the SUSU Laboratory for Synthesis and Analysis of Food Ingredients.
During Professor Sonawane's visits, joint laboratory lessons with students and postgraduates of the SUSU School of Medical Biology, where they completed testing of equipment that was purchased by the university as part of the 5-100 Project. In addition, the professor from the Institute of Technology met with the vice-rector of strategic development, Andrey Keller.
"Today we talked about the idea of broadening our partnership in various areas. First of all, in the area of medicine and biology, by inviting postdocs from India for work in our university, and the possibility of organizing dual masters' programs and joint training of highly qualified specialists," commented Andrey Keller about their meeting.
Professor Shirish Sonawane was happy to answer our questions about his scientific work and partnership with South Ural State University.
– Tell us about your partnership with SUSU. What are your plans for the future?
– At this time, we are working with professor Irina Potoroko on the issue of manufacturing food products using ultrasound to create particular qualities and increase their shelf life. Work on changing the structure of products, especially proteins and starches, is promising. We are planning on releasing two joint articles about modifying starches and vegetable-based proteins in highly-rated journals.
– What is your opinion on working with the SUSU team? What results have been achieved?
– We have successful partner research in food and biotechnology. SUSU is working on new trends such as improving food quality. Our institute has a great engineering base – I think that we are wonderfully combining our capabilities to study the processes of improving food quality.
– How did your scientific career start? Why did you choose sonochemistry?
– I found out about the synthesis of nanoparticles, and this topic was interesting to me. I began looking for information in the literature, and found out about sonochemistry. Having chosen this area, I enrolled in Melbourne University thanks to a scholarship, and that's how my career in sonochemistry began.
– Today the use of ultrasound is very popular in food industry. What prospects are there for its use in this field?
– Let's take for example the extraction processes, for which we use solvents which can negatively affect the quality of food. Extraction oils use solvents, which can be toxic. Using ultrasound has huge advantages, since it can replace these solvents. That is, the process of increasing necessary substances or elements becomes completely ecological.
– Can ultrasound help create products which improve peoples' resistance to stress and improve physical health?
– Everything that you eat has an effect on your physical health. Taking in nutritional and beneficial food has a positive effect on your health. Ultrasound can help us extract specific compounds, for example vitamins and antioxidants, which have a positive effect on the human body and on health.
– Can you describe the food of the future? Will it change significantly after a few years?
– I think it will chance, since this is always a question of time. For example, earlier, people didn't understand how vegetable oil affected the cardiovascular system. Now we know the contents of oil and what effect it has on the body. It is obvious that ultrasound also brings forth changes and changes the quality of oil.
– Sonochemistry is changing rapidly. What do you think, will significant discoveries occur in this field?
– It will definitely change the food industry. But if we are speaking of scientific breakthroughs, then it's better to talk about research in areas for studying methods of delivering medication into the body. I believe that ultrasound will make a breakthrough in this area.