On April 26th in the Sigma conference hall a lecture was held by professor Jeff Sahadeo of Carleton University (Canada) on the topic: "Soviet Moscow as a 'global city': Migration and Postcolonialism (comparison with London and Paris.)"
Jeff Sahadeo, historian and political scientist, heads the Institute of European, Russian, and Eurasian Studies at Carleton University and is considered a recognized specialist in the migration studies. The professor is also the head of the SUSU International Migration Research Laboratory, created within the 5-100 Project.
"I met professor Sahadeo a year ago when we started discussing the creation of a migration studies laboratory at SUSU. We invited him to head this laboratory as one of the most famous researchers working on migration. Of course, we wanted him to come visit us personally and speak with our teaching staff, researchers, and students, and exchange information with us. We are interested in completing joint research projects," says Olga Nikonova, head of the Department of Russian and International History of the ISHS.
The professor told us that his work is built on the basis of studying city migration environments whose transformation allow us to hold comparative analyses of such international capitals as Moscow, Paris, and London. He also mentioned the wave of migration in the past few years and offered some examples of protests against migrants in Russia and around the world. There is a special place in his research for the study of residence permits in Moscow.
The lecture was attended by students of historical, political, and sociological majors. The topic was interesting to the audience and there were many questions after his presentation.
Anyone who wishes to participate in this event can.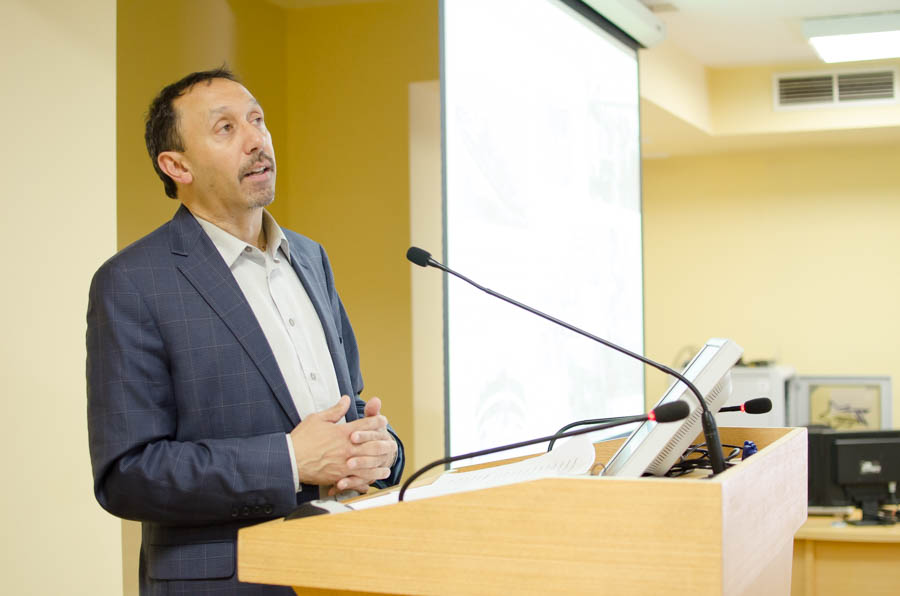 Schedule of open events with Jeff Sahadeo:
26.05.2017 (Wednesday)
11:30 – 13:00 – public lecture on the history of migration in the Russian Empire and USSR for SUSU - Soviet Moscow as a global city: migration in post colonialism. Comparison with London and Paris.
Sigma building, conference hall
27.04.2017 (Thursday)
11:30 – 13:00 – Master class for students from the Faculty of History in second and third year of study – Nostalgia in the oral histories of soviet migration: what does it say about the past and current times?
SUSU main building, room 442
29.04.2017 (Saturday)
8:00 - 18:00 – field trip masterclass by J. Sahadeo in Troitsk, Chelyabinsk region – Transit spaces in and cities in migration history.
Please address all questions about participation in these events to:
(351) 267-92-15, head of the Department of National and International History, Olga Yuryevna Nikonova.